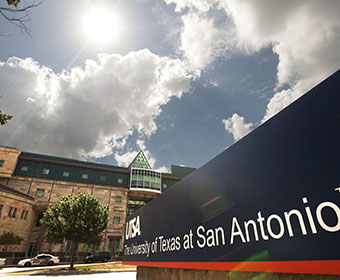 (May 4, 2018) -- The University of Texas at San Antonio (UTSA) and City of San Antonio are improving vehicle and pedestrian routes around the UTSA Downtown Campus.
The San Antonio's Zona Cultural project includes safety improvements for UTSA students crossing Frio Street. A concrete median and a pedestrian-controlled crosswalk light are under construction now.
            >> View a rendering of the Zona Cultural project.
In the fall, phase two of the project will begin. It will include wider sidewalks, art walls, street lighting and traffic calming devices to slow down traffic on Commerce St. and Buena Vista St. This second portion of the project is expected to take nine months to complete.
Additionally, the City of San Antonio Transportation and Capital Improvements Department has added design features on Buena Vista St. to provide value to the UTSA community. The design includes on-street parking for both sides of Buena Vista St. The city anticipates adding sidewalks as well as widening existing sidewalks. Design elements on Buena Vista St. and Commerce St. will improve the walkability and tie these blocks together as a downtown area.  
"These improvements are vital to our students' safety as plans begin to take shape to expand the Downtown Campus with more students, additional buildings, academic programs and residential living," said Dave Riker, UTSA interim senior associate vice president for Business Affairs. "The updates also strengthen our bond with the city, making it easier and safer for the campus community to walk to surrounding businesses and venues."
The UTSA Office of Facilities has provided feedback to the City design team to request other improvements that will benefit the Downtown Campus and surrounded community. As a safety measure, the city will close two driveways from Buena Vista St. into Cattleman's Square and construction a new driveway onto Leona St. to allow access to either Commerce St. and Buena Vista St. Additionally, the city has approved UTSA's request for a new pedestrian-controlled crosswalk light at Leona St. to allow students better visibility when crossing between the Cattleman's Square parking area and the campus.