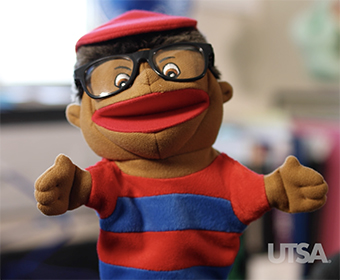 (May 17, 2018) -- At UTSA, a microbiologist is reaching out to students with a unique tool. Janakiram Seshu, professor of biology, has created a character named MicroSeshu (mSeshu) to demonstrate why the UTSA biology department is the best place in the world for a hard-working student ready to dive into research.
MicroSeshu is a puppet in a blue and red striped shirt and a pair of glasses. UTSA students gave the puppet to Seshu as a gift.
"They said this is how I would look as a college student," said Seshu. "I think it's actually a fairly good representation of how I looked back then."
After a short time, the puppet came to life with a personality of his own and was dubbed the lab mascot, MicroSeshu. He now has a fairly detailed back story, which is shared in presentations at UTSA and around the region. It mirrors the background of many of UTSA's students.
MicroSeshu is a first-generation college student and a San Antonio native, who learned about UTSA from his high school teachers. They encouraged him to apply to UTSA by telling him how enriching the programs in the College of Sciences are, and what a bright future he could have if he pursued a degree there. He has a full scholarship at UTSA because of his academic qualifications and is determined to complete his degree in four years.
Beyond that, MicroSeshu takes some of his personality from the original Seshu, who like his puppet counterpart is focused on microbiology research involving infectious diseases. Additionally, MicroSeshu prefers to eat only nutritious foods and is concerned about the health of his own micro biome: his body.
Seshu is quick to remind audiences that his alter ego isn't "Mini Seshu" or "Little Seshu." He's very deliberately named MicroSeshu, because he's an aspiring microbiologist.
In the past year, MicroSeshu has become something of an icon in the UTSA College of Sciences, as Seshu frequently uses him to connect with prospective students and undergraduates.
"They connect with him," Seshu said. "It's easy to connect with characters. When we were children, most of us connected with Mickey Mouse. MicroSeshu is portraying the excitement and passion involved with being a college student in a research lab."
MicroSeshu is a frequent guest on MicroTalk, a podcast hosted by Seshu and other faculty members of the UTSA South Texas Center for Emerging Infectious Diseases. He chimes in with questions framed from an undergraduate researcher's perspective. He's also slated to become the star of a series of YouTube videos that delve into what students can experience by pursuing an undergraduate degree in microbiology at UTSA.
As for his own studies, MicroSeshu is currently set to graduate from UTSA in 2018. He has plans to go on to a graduate school to continue studying microbiology.