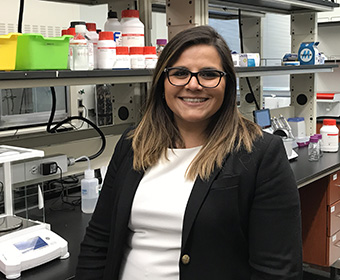 (May 1, 2018) -- Gabriela Romero Uribe is an assistant professor of chemical engineering at The University of Texas at San Antonio (UTSA). She's a recent addition to the UTSA faculty and her work applies chemical engineering to the creation of materials that could aid in drug delivery or treatment of diseases in the brain.
Romero is a part of UTSA's new chemical engineering program, which launched in 2017 and is one of only a handful of programs of its kind in South Texas. Through the program, UTSA is helping to increase the percentage of women in engineering. Currently, women make up only 20 percent of engineering students nationwide. About a third of those study chemical engineering.
We recently sat down with Romero to chat about her work.
How would you describe your research?
In my research group, we combine basic principles of chemistry, physics and biology to design and fabricate new materials that mimic the properties and behaviors of the molecules already existing in our body. For example, we investigate the fabrication of soft materials that have similar mechanical and chemical properties as the brain to be used as therapeutic tools for brain disorders. We are also very interested in fabricating materials that we can precisely manipulate. For instance, we're researching soft materials that are sensitive to heat so that we can control drug release in the brain by generating a temperature gradient.
What impact do you hope your research will have?
I hope to contribute in bridging the gap that currently exists between the treatment of brain disease and biomaterials technology. For example, there are several cancer drugs and drug delivery systems in clinical trials. We also know that gene editing tools have found an interesting application for the treatment of cancer, particularly CART-T cells technology.
When it comes to brain diseases, though, we are still struggling to deliver therapeutics into the brain, and we are still using harsh technologies to stimulate neural signals. A lot less has been accomplished for brain diseases in comparison to cancer elsewhere in the body. I believe that's because the brain is much more complex than we previously understood it to be.
We have seen chemical and materials engineering advances in technologies that allow us to manipulate the chemistry and physical properties of materials at the molecular level. I want to contribute in the advancement of brain therapeutics with a chemical engineering approach.
What is one major goal you have for your life or your career?
My major goal is to be able, through my research, to inspire UTSA students to pursue scientific and engineering careers, particularly women and Latinas. 
For me, it is hard to believe that in this century, with all technology we have, women are still an underrepresented minority in engineering. This needs to change for good.
My passion for research is what inspired me to pursue a career in academia, and I believe that as educators, we are responsible for inspiring students and encouraging them to follow career paths in science and engineering.
Have you had any mentors? How do they inform what you do now?
My mentors inspired me to follow this career path as an engineer. I believe that mentors are very important in life, and that younger engineers should surround themselves with great mentors to help them to find their path. Mentors can see you from a different perspective than you see yourself. Before joining UTSA, I worked in private industry. When I decided to follow a career in academia and I told my former Ph.D. and postdoctoral advisors, all of them were already convinced that I belonged in education, something that took me two years to understand before coming to UTSA.
I still have very good relationships with my former advisors, who are now my mentors. In addition, I have found other faculty at UTSA that have been very supportive and helpful, and now they are serving as my mentors as well.
What's one token of advice you would give your younger self?
If you work hard, you can accomplish anything you want.
What do you think the biggest challenge researchers in your field are facing?
Funding, without a doubt. Researchers around the country struggle for money to support their research and students all the time. Federal funding is very limited and the competition is fierce. In fact, the acceptance rate of proposals for federal funding is under 10 percent. This situation particularly affects junior faculty such as myself since we are establishing ourselves as independent researchers.
What is the most important thing going on in your field that no one is talking about?
There are many unanswered questions. All scientists and engineers are trying to answer those questions, including myself. But very few scientists in the country are looking and addressing alternative therapies for brain disorders from the soft materials point of view as I do. In that field, there are many obstacles to tackle, such as a safe approach to deliver drugs into brain.