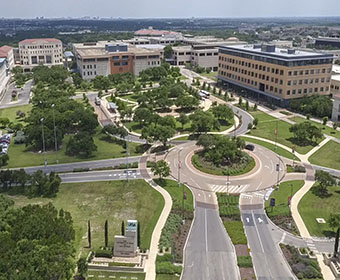 (May 7, 2018) -- The University of Texas at San Antonio (UTSA) has received a nearly $1 million, five-year grant from the National Science Foundation to increase diversity and student success in computer science. Led by Turgay Korkmaz, UTSA associate professor of computer science, and Larry Clark, a computer science lecturer, the program will support high-achieving, low-income students and engage underrepresented female and minority students by offering 62 undergraduate scholarships. The new program, funded by the NSF S-STEM program, will be known as Increasing Financial Opportunities and Co-curricular Utilities for Success in Computer Science (I-FOCUS-CS).
"UTSA is one of the largest minority-serving institutions in South Texas, and increasing the diversity of perspectives in our nation's pool of computer science professionals is vital to our country's prosperity," Korkmaz said. "With this new program, we'll connect with underrepresented female, minority and financially disadvantaged students to remove the implicit bias in the STEM field."
The I-FOCUS-CS project will offer scholarships for high-achieving, low-income undergraduate students. Each qualifying student will receive a scholarship of up to $10,000 per year. Furthermore, to increase the diversity of UTSA computer science majors, the faculty members will develop new methods and surveys to better identify the academic needs of individual students, monitor the academic progress of each participant and integrate multiple activities based upon the learning needs and progress of individual participants.
"We are aiming to increase the retention of students majoring in computer science by at least 20 percent and improve the student graduation rate in computer science by the same measure," Korkmaz said.
To support student engagement and success, UTSA will implement an increase in faculty and peer mentoring, individual tutoring and a new, week-long orientation "jump start" program, biweekly group study meetings, opportunities to attend research conferences and involvement in faculty research projects.
Additionally, each student's progress will be closely followed so that individualized, early interventions will be initiated, if needed, to keep all scholars on track to complete their degrees. Students will also be encouraged to participate in recruiting and outreach events to share their own stories as role models for younger students.
"This combination of activities has the potential to significantly improve the retention and graduation rate of high-achieving, low-income students, and provide sustainable solutions to advancing STEM education," Korkmaz said. "This program will open our exceptional computer science program to a broader student body."
Students interested in applying to the program may do so online. The first group of students will receive funding in the Fall of 2018.