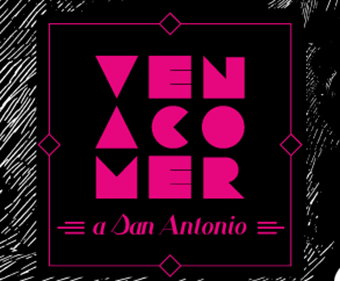 (May 29, 2018) -- For San Antonio and Mexican chefs, a chance to delve into UTSA Libraries' massive Mexican cookbook collection is a unique opportunity to connect with the culinary past and bring its inspiration onto the plate. 
Ven a Comer, a festival taking place Saturday, June 2, will feature modern interpretations of the food and spirits from the historical cookbooks in a distinct collaboration of chefs and other culinary specialists from San Antonio and Mexico.
The highlight of the festival is a multi-course dinner at Hotel Emma, recently named one of the world's 40 best "food-centric" hotels. Four chefs will collaborate on the menu including John Brand and Jaime Gonzalez from Hotel Emma.
Joining the local chefs will be two visiting chefs and mezcal and wine specialists from Mexico. They include:
Chef Gabriela Cámara of Mexico City's Restaurant Contramar and San Francisco's Restaurant Cala
Chef Sofía Cortina of Hotel Carlota in Mexico City
Enologist Laura Zamora of Santo Tomás winery located in Baja California; and
Mezcal distiller and expert Pedro Jiménez Gurría of Guadalajara, who will share his knowledge of the traditional agave-based spirit at both festival events
The evening will also feature two San Antonio artists, painters Abraham Mojica and Cruz Ortiz '00, who will screen print a poster to commemorate the evening.
Proceeds from Ven a Comer will support the development and preservation of UTSA's Mexican Cookbook Collection, one of the largest collections of its kind in the country. The collection includes more than 1,800 items published between 1789 and the present. Among the many gems in the collection are handwritten recipe books providing an intimate view of domestic life and Mexican culinary culture. Other unique items include handwritten manuscripts and an 18th century cookbook of Latin American recipes including dishes such as postre de calabacitas de negro, gaspacho, zopa de naranja, and potaje escondido.
"This is kind of my secret weapon for menu development," says Chef Rico Torres, who participated in last year's festival. "There's value in having this collection at UTSA. It adds to the fact that San Antonio is a gateway to Mexican culture."
Ven a Comer is sponsored by Hotel Emma, the Historic Pearl, UTSA Libraries, and the Mexican Cultural Institute, with additional support from the Consulate of Mexico in San Antonio.
Festival Events:
Mexican Spirits: A Tasting of Mezcal and Wine from Mexico
10 a.m. – 1 p.m.  |  Farmers Market – Pearl Brewery
Ven a Comer - An evening of Fine Food and Spirits
6:00 p.m.  |  Hotel Emma

A unique evening featuring a multi-course dinner with dishes inspired by UTSA's Mexican Cookbook Collection. Proceeds from the event will support the preservation and development of the collection.