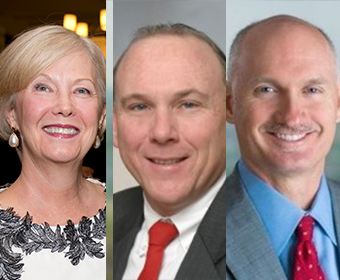 (June 13, 2018) -- Two alumni and a local entrepreneur will be honored at the 2018 Alumni Gala on Saturday, Aug. 11 at the Hyatt Hill Country Resort. The association will award the Lifetime Achievement Award to Linda Montgomery '87, Alumnus of the Year to Randy Vogel '79, and San Antonio entrepreneur David Spencer will receive the Distinguished Service Award.
The Alumna and Alumnus of the Year and Distinguished Service Award honor individuals who have made significant contributions to the university and to the UTSA Alumni Association.
Linda Montgomery is a Life Member and a past president of the UTSA Alumni Association.  She has also served the university on the UTSA Development Board and the UTSA Athletics Executive Advisory Council.  She is owner and president of JLM Marketing in San Antonio.  She is a longtime member of Rotary Club of San Antonio at The Dominion; she and her husband Jim were honored in 2008 by Rotary International for their civic work.  She graduated from UTSA in 1987 with a bachelor's degree in political science.
Randy Vogel is a Life Member and served as president of the UTSA Alumni Association from 2012-2013.  Professionally he is an audit partner with BKD San Antonio, the 10th largest CPA and advisory firm in the United States.  His focus areas include energy and natural resources and not-for-profit and government.  Randy is a board member with the Texas Society of CPAs and a member of the San Antonio CPA Society and the Rotary Club of San Antonio. He graduated from UTSA in 1979 with a bachelor's degree in accounting.  He and his wife Carol have three children, including two Roadrunner legacies.
David Spencer is president and CEO of Mandelbrot Ventures, a boutique firm specializing in early, pre-seed and seed stage investments in Texas-based technology companies.  He is also president of Texas Intrepid Ventures.  One of his companies, Prytime Medical Devices, has developed a minimally invasive catheter that is used by trauma and emergency medicine teams to temporarily block large blood vessels using a balloon in order to prevent a patient from bleeding out.    
Spencer‒who is married to alumna Jennifer Spencer '93‒is among the rowdiest of UTSA supporters, sporting a Rowdy head hat at football games and numerous other university events.  He also renovated a school bus that hosts his "Brute Squad" for tailgating at UTSA football games.  He is a member of the UTSA Development Board as well as the College of Engineering Advisory Council.  He also played a crucial role in founding the Center for Infrastructure Assurance and Security at UTSA, leading to the university's designation at the top cybersecurity program in the country.
"What an amazing group of UTSA supporters we are honoring this year," said Kristin Ludwig, executive director of the UTSA Alumni Association.  "Linda, Randy and David have all been long-time supporters of the university and the UTSA Alumni Association, generous with their time and treasure.  Each has had a significant impact on UTSA and it will be a pleasure to recognize them at what is always a fun, spirited event."
UTSA alumni and friends are invited to pay special tribute to each of these honorees at the gala on Aug. 11.  This UTSA signature event will feature a cocktail reception, silent auction, dinner and an after-party.  The 2018 gala title sponsor is Muy! Pizza Huts.