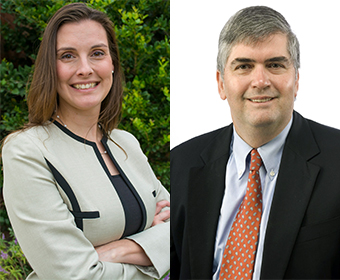 (June 22, 2018) – UTSA Provost and Vice President for Academic Affairs Kimberly Andrews Espy today announced that George Perry, a leading Alzheimer's researcher and Dean of the College of Sciences, will become the Chief Scientist in the newly established UTSA Brain Health Consortium, effective July 1. A national search for the next Dean of the College of Sciences will be initiated immediately, chaired by John Murphy, Dean of the College of Architecture, Construction and Planning.
Prior to joining UTSA as dean in 2006, Perry worked for more than 20 years at Case Western Reserve University, where he was professor of pathology and neurosciences and chair of the Department of Pathology. Perry earned a B.A. in zoology from the University of California, Santa Barbara and a Ph.D. in marine biology from the Scripps Institution of Oceanography. He received a postdoctoral fellowship in the Department of Cell Biology at Baylor College of Medicine.
Perry is recognized internationally as one of the top Alzheimer's disease researchers and has been cited over 80,000 times. He is editor for numerous journals and serves as editor-in-chief for the "Journal of Alzheimer's Disease."
"Dr. Perry is one of the leading Alzheimer's researchers in the world, particularly in the area of oxidative damage," said Jenny Hsieh, director of the Brain Health Consortium and Semmes Foundation Chair in Cell Biology. "We are incredibly fortunate that he will be devoting himself full time to continuing this critically important work and sharing his expertise with our consortium faculty."
UTSA is working with the Registry for College and University Presidents to identify and appoint an interim dean for the College of Sciences until the national search is concluded. The interim dean will be announced at a later date.
Academic Affairs is also conducting a national search for the Vice Provost for Graduate Studies and Dean of the Graduate School.
For the position of Vice Provost for Academic Affairs and Dean of University College, Heather Shipley has been appointed, after serving in the interim role since 2017. In addition to her role overseeing University College, Shipley will lead efforts in Academic Affairs pertaining to undergraduate education, working directly with the other colleges, academic departments and external partners on various academic, policy and operational matters.
A professor of civil and environmental engineering, Shipley also holds the Burzik Professorship in Engineering Design. She has previously served as director of the Interactive Technology Experience Center, chair of the Department of Civil and Environmental Engineering and faculty adviser for Engineers Without Borders.
"Heather is an outstanding educator, and she is committed to promoting undergraduate education and student-centered learning across the university for the benefit of all our students," said Espy. "She has done an excellent job in leading the college this past year and will continue the work of aligning undergraduate education practices, policies and partnerships across the university to ensure every undergraduate student at UTSA has opportunities for exceptional academic experiences."
Shipley joined UTSA in 2007 and earned promotion to full professor in 2017. She is a successful researcher and also the recipient of the University of Texas System Regents' Outstanding Teaching Award, UTSA's Faculty Service to Undergraduate Research and Creative Inquiry Award, and is a member of the UTSA Academy of Distinguished Teaching Scholars. She holds a B.S. degree in chemistry from Baylor University and M.S. and Ph.D. degrees in environmental engineering from Rice University.
Additionally, Si Millican has been appointed Associate Vice Provost for the Core Curriculum in the college, effective Sept. 1. An associate professor in the Department of Music, Millican teaches courses in instrumental music education and works extensively with the Music Education Performance Lab and the Institute for Music Research. As associate vice provost, he will coordinate the ongoing development and evaluation of UTSA's undergraduate general education program.
Millican will replace Nancy Martin, who is retiring at the end of this summer and who has served as Associate Vice Provost for Core Curriculum and Quality Enhancement Plan since 2009. A professor in the Department of Educational Psychology, Martin joined the UTSA faculty in 1993. She served as associate dean in the College of Education and Human Development from 2000 to 2009 and as interim department chair in 2009. 
"It has been a privilege and a pleasure to work with Dr. Martin," said Shipley. "We are grateful for her vigorous service and contributions to UTSA."
University College oversees undergraduate studies as UTSA, including coordination of the undergraduate curriculum and handling of academic processes, and is home to offices including the Center for Civic Engagement, Scholar Development and Post-Graduate Advising, the Writing Program, the Multidisciplinary Studies Program and others. The college's mission is to achieve academic excellence in undergraduate education by positively impacting undergraduate student education, encouraging scholar development through exploratory programs and promoting lifelong learning through engaged learning and research.