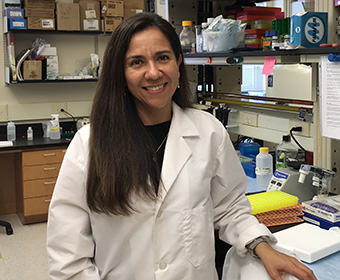 (June 12, 2018) -- Astrid Cardona is an associate professor of biology at The University of Texas at San Antonio. Her work involves studying diseases of the brain, specifically those that cause inflammation and degeneration.
Cardona is also a member of the South Texas Center for Emerging Infectious Diseases, which was established at UTSA to focus state and national resources on the fields of molecular microbiology, immunology, medical mycology, virology, microbial genomics, vaccine development and biodefense.
The center, including Cardona's laboratory, serve an important role in the understanding of brain health disorders as well as an opportunity for undergraduate and graduate students to experience hands-on research at a high level.
We recently sat down with Cardona to learn more about her work at UTSA.
How would you describe your current research? Why did you decide to focus on this topic?
We study inflammatory processes that occur in the brain as a result of chronic diseases, with a particular focus on multiple sclerosis and diabetic retinopathy. Our goal is to understand a communication system, between neurons and the resident brain macrophages also known as microglia, that can be harnessed as an anti-inflammatory pathway to alleviate tissue damage.
Microglia's primary role is to clean up debris, acting as housekeepers of central nervous system tissues, but microglia are typically considered responsible for promoting inflammation and exacerbating brain damage. It is still unclear how microglial properties are regulated to support tissue destruction or repair. Our goal is to understand how nerve cells and microglia communication can be regulated to block the detrimental actions of microglia.
Neuroinflammation has been always an intriguing topic for me and due to my early interest in science, since my high school years, I have guided my training in various aspects of the interaction of the immune system with brain cells.
What is one experience as a professor or researcher that has inspired you?
Having the opportunity to meet patients, students, family members of colleagues and co-workers that are afflicted by these types of diseases and the impact on their daily lives. The appreciation of these individuals for our efforts in research and their engagement, doing what they can to support each other, is an inspiration and gives a deep meaning to what we are trying to accomplish in the lab. When I hear them say, "Thank you for what you are doing," it reminds me that our important work must continue.
What's one token of advice you would give your younger self?
Do not be afraid to ask for financial guidance. Financial challenges were a recurring theme when growing up, so I do wish I had asked for help on that aspect much earlier.
What advice do you have for a student considering joining your field?
Be intentionally critical when considering why you want to join the field of academia and research. Working with others and establishing productive collaborations will be an important part of your success.
Criticisms and addressing critiques from others becomes an integral part of the professional life, therefore is important to be well prepared for that and become proficient in how to respond to various forms of input. Finally, outstanding communication skills (oral and written) will be among the best tools you will put to work routinely.
What is an important aspect of in your field that is becoming more appreciated?
Multiple sclerosis affects many different organs and patients experience such a varied symptomatology that impacts the quality of life for the patients and the families. There are so many areas that we still need to tackle to provide better outcomes in patients, for example, pain management, depression, coping with emotional changes, cognitive changes, seizures.
It has also become apparent that lifestyle choices also affect disease susceptibility. Diet, exercise and smoking play an important role, but the main challenge we have is figuring out the outcomes when the genetic makeup of a person and the way of living come together. Predicting good and bad combinations when the genes and the environment come together has been an interesting area of study, and filling this gap will continue to be on the frontlines of research.
Do you have a favorite quote?
"Every minute of our day brings the opportunity to do our jobs better and become a better version of ourselves." – Matthew Kelly