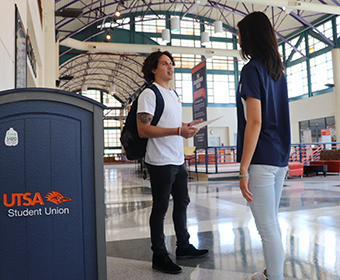 (July 16, 2018) – The UTSA community will notice changes to several buildings on the UTSA Main Campus over the coming weeks. Today, the UTSA University Center complex is officially the UTSA Student Union (SU) and UTSA H-E-B Student Union (HSU). The Physical Education Building also has been renamed the Intercollegiate Athletics Building (IAB).
Crews have begun replacing campus signage, maps and print and web publications to reflect the new names. All changes will be implemented by the first day of fall classes.
The Student Union name change is student-directed and was initiated last fall by the University Center Advisory Council. The Council approved a resolution, which was then reviewed and voted in favor by the UTSA Student Government Association and President Taylor Eighmy.
The term student or college union is recognized internationally as a gathering place designed for students and resonates broadly with UTSA students and guests.
The Student Union has a special renaming ceremony planned during Kickback at the Union from 6 p.m. to 10 p.m. on Sunday, August 19. All students are encouraged to attend to welcome in the new academic year and celebrate the renaming of the UTSA Student Union complex. 
The Physical Education (PE) Building was one of the first structures at UTSA when it was built in the early 1970s. Initially, the building was used for PE activities such as basketball and volleyball. With the construction of the Recreation Wellness Center in the 2000s, the PE building transformed away from PE activities and now serves as the home to football and basketball staff offices and activities. The name Intercollegiate Athletics Building was chosen to more closely align with the current purpose of the building.