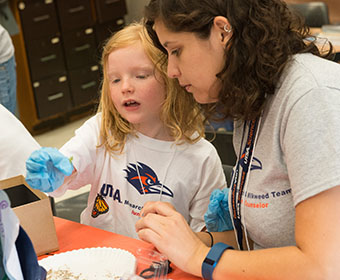 (July 9, 2018) – Students make new discoveries this week during several new and popular camps on the UTSA Main and Downtown Campuses. Throughout the summer, UTSA offers more than 60 camps in science, engineering, architecture, sports, music, writing, language, culture and more.
Campers will explore an archeological dig, learn about the life cycle of butterflies, enhance their music skills and experience what it's like to play college sports.
UTSA's summer camp agenda this week includes the following camps:
Archaeology and the Science of Skeletons
Monday to Friday, 9 a.m. to 4 p.m., Center for Archeological Research, Main Campus

In this sold out session, campers ages 9-13 will discover the field of bioarchaeology while being introduced to cultural traditions all over the world. They will learn how archaeologists use skeletal remains to uncover the past. Campers can expect archaeology themed activities, games, crafts and a hands-on look at artifacts in a lab.
Monarch Butterfly Ecology Summer Camp
Monday to Friday, 8 a.m. to 4 p.m., Main Campus
UTSA environmental science staff and students will share their knowledge and passion about the state insect of Texas. Campers will learn what's being done to increase the monarch butterfly population and how to have an appreciation for wildlife and wildlife conservation. This camp is intended for children ages 6-12.
iTEC Camps
Monday to Friday, 8 a.m. to 4 p.m., various locations, Main and Downtown Campuses

Campers will explore science, technology, engineering and math through hands-on activities. This week, campers in kindergarten through 2nd grade will examine human biology and the mysteries of science. Third through 5th graders will explore the color of science and learn about coding.
New this year, UTSA is also offering Texas Workforce Commission Governor's Summer Merit Program, a free iTEC program for qualified students ages 14-21. The camp gives students an understanding and appreciation of specific aspects of the science, technology and career opportunities in advanced technologies and manufacturing, particularity robotics.
Percussion Camp
Monday to Friday, 8 a.m. to 4 p.m., Arts Building Recital Hall (Arts 2.03.02), Main Campus

This new camp will immerse students in 6th-12th grades in the exciting world of percussion, helping them develop their technique and musicality, improve sight reading abilities and learn about new styles of music and instruments through interactive masterclasses and ensemble experiences.
Baseball Camp
Monday to Wednesday, 8:30 a.m. to 4 p.m., Roadrunner Field, Main Campus

Campers will cover throwing, hitting, fielding, fly balls, base running and bunting in this youth camp designed for players ages 5-14. Campers will compete in games daily and in the Roadrunner Olympics on the final day of camp.
Volleyball Camp
Monday to Wednesday and Friday to Sunday, times vary, Convocation Center, Main Campus

UTSA Volleyball offers two camps this week. Little Runners is designed for players entering 4th-6th grades who want to learn and enhance their volleyball skills. UTSA Overnight Elite Camp targets the more experienced player in middle and high school who already have a strong understanding of the game.