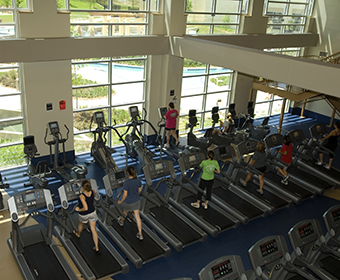 (Aug. 31, 2018) -- The UTSA Recreation Wellness Center, better known as The Rec, has nearly 185,000 square feet of indoor space on the Main Campus to enrich the personal wellness of all members of the UTSA family. If you take classes at UTSA, you are already a member! While on the outside it may look like just a really nice gym, there's more to the Rec than meets the eye.
1. Free, fun, food…take a cooking class
The Demo Kitchen cooking sessions are free instructional programs that teach cooking techniques and recipes while focusing on nutritional content. These meals are designed to be healthy, inexpensive and easy to make. The best part is, after you make it, you get to eat it!
2. Encouragement and inspiration…exercise classes
Zumba, cycle, yoga and cardio dance are just a few of the many classes available for free with a Campus Rec membership. Classes are usually available all day to accommodate any schedule. Make friends and improve your health through regular workouts.
3. Be cool in the pool
A lap pool and a leisure pool are waiting for you to take a dip on a hot day or get some exercise. There's also a sand volleyball court and tons of pool gear for some wet and wild fun! Plus, the Aquatic Center offers private and group lessons for kids and adults.
4. Your personal workout awaits
The Rec has a number of workout spaces both big and small full of cardio and weight-lifting machines to suit most any fitness needs.  Check out the new cardio additions…Jacob's Ladder, S-drive and Lateral X.  If you are on limited time, then experience the new full body circuit in the Mac Gym.
5. Yes! An indoor track
San Antonio wears humidity and heat like daily clothing. For runners who want to avoid running in the heat or just prefer running indoors, the top level of the Rec features an elevated, rubberized track circling the whole complex that makes it easier to tackle those miles in the A/C without falling victim to the heat. To help you complete your workout, each lap you complete is 1/6th of a mile. But, always hydrate, hydrate, hydrate.
6. Best in the state…our rockwall
Feeling adventurous? Not ready for mountains yet? UTSA is home to the tallest collegiate rockwall in the state of Texas. The Rockwall has routes for every skill level, and there's always trained staff available to teach novices how to climb safely. For experienced climbers looking to challenge themselves, the Rec hosts climbing events twice a year with regular clinics all year long.
7. Classes downtown? Let your fitness continue…
Don't forget a great workout is available at our Downtown Fitness Center. Located on the third floor of the Durango Building, the Downtown Fitness Center offers a variety of cardio and strength equipment and an exercise studio. Also, challenge yourself and participate in our great fitness competitions downtown for your chance at earning a Fitness Champion t-shirt and, better yet, to meet fellow Runners!