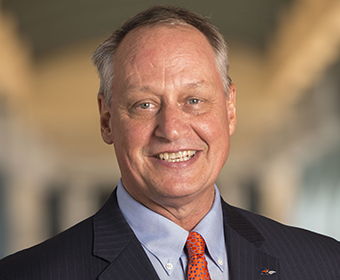 (July 2, 2018) -- The Coalition of Urban Serving Universities (USU), an organization committed to increasing prosperity and opportunity through city-university engagement, has elected UTSA President Taylor Eighmy to its board of directors.
"We are delighted that Dr. Eighmy is joining the board," said Mark B. Rosenberg, chair of the USU board and president of Florida International University. "His seasoned leadership and passion for student success will serve us well."
Aligning with Dr. Eighmy's vision for UTSA as an exemplary urban serving university of the future, the university became a member of the coalition in November 2017. The coalition consists of 37 U.S. public research universities located in major metropolitan areas, all of which have committed to actively contribute to the success of their local economies.
President Eighmy first became involved in USU during his time at Texas Tech University where he served as senior vice president for research.
"I believe passionately in the work that USU is doing to foster deep relationships between universities and their cities," he said. "All urban universities have a responsibility to help solve the grand challenges facing their local communities, and I am delighted to play a leadership role in helping to move this agenda forward on the national level."
In partnership with the Association of Public Land-grant Universities (APLU), USU leads the Office of Urban Initiatives.
USU's work centers on two reinforcing pillars: initiatives working to advance student success through innovation and initiatives aiming to achieve community transformation through partnerships, including joint efforts with the Association of Public and Land-grant Universities (APLU).
"Taylor Eighmy brings vast experience cultivating strong city-university partnerships," said Shari Garmise, executive director of USU and vice president for urban initiatives at APLU. "In his short time at UTSA, he has already made impressive progress to further integrate the university into San Antonio's ecosystem. His leadership in this regard will be a tremendous asset to the USU Board."
Current priorities of the coalition include building smart resilient cities, improving the health of a diverse population, fostering student achievement and 21st century workforce development. Four UTSA faculty members are currently serving two-year appointments on USU working groups associated with these initiatives:
Smart Resilient Cities
Hazem M. Rashed-Ali, associate professor of architecture, UTSA College of Architecture, Construction and Planning
Improving the Health of a Diverse Population
Thankam Sunil, director, UTSA Institute for Health Disparities Research
Student Achievement
Rhonda M. Gonzales, interim vice president for student success
21st Century Workforce
Thomas Tunstall, senior research director, UTSA Institute for Economic Development
Eighmy's term on USU's Board of Directors goes through June 2021.