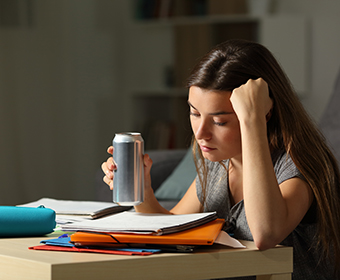 (July 31, 2018) -- Drug addiction is one of the grand challenges in American culture and UTSA criminal justice researcher Dylan Jackson and his collaborator Wanda Leal wanted to understand whether adolescent energy drink consumption could predict teens' attitudes and perceptions concerning drug use and abuse.
The researchers conducted a study employing data from 2010 to 2016 and found that more than 50 percent of the youth in their study who consumed multiple energy drinks each day did not disapprove of regular to heavy soft drug use. The researchers classified soft drugs as less addictive substances such as marijuana, tobacco, and alcohol.
Additionally, their research showed that youth who consumed multiple energy drinks each day failed to perceive that hard drugs – addictive substances such as cocaine and heroin – were risky. Those who consumed multiple energy drinks were 125 percent more likely to fail to perceive any risk in trying to consume cocaine, when compared to their peers. Likewise, they were 143 percent more likely to fail to perceive any risk in trying heroin, when compared to their peers.
To study the issue, the authors used a nationally representative sample of adolescent participants in eighth and tenth grade. The researchers focused on the potential dangers of energy drink consumption, the harmful consequences of energy drink use, and the teens' perceived approval or disapproval of soft and hard drugs.
"We initiated this study expecting to see some correlation between teen energy drink consumption and drug attitudes and perceptions, but we had no idea that the connection would be so strong," said Jackson. "This research should raise red flags among parents, physicians, and health professionals who are in regular contact with teens exhibiting problematic energy drink consumption patterns, as such consumption patterns may signal a proneness to attitudes and perceptions that are conducive to more serious drug use."
As an urban serving university, UTSA is committed to tackling some of San Antonio's greatest challenges through research and engagement. Addiction to opioids, alcohol, tobacco and illegal drugs continues to be a social justice concern for individuals, employers, the city and the health care system, among others, in San Antonio and across the nation.
Jackson argues that more research is needed to clearly understand how energy drink consumption impacts future drug use among teens. Additionally, the UTSA researcher recommends that legislators need to prioritize policies that limit energy drink consumption among adolescents. Likewise, he advocates for community programming that educates parents, teachers and teens about the risks of drugs, the dangers of energy drinks, and warning signs for addiction.
UTSA is ranked among the nation's top five young universities, according to Times Higher Education.