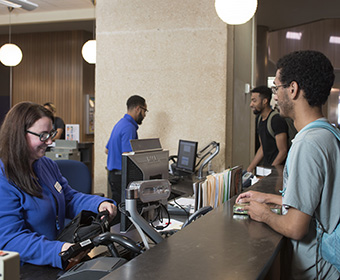 (Aug. 23, 2018) -- UTSA Libraries provides many services, from helping students with research questions to tracking down articles and databases. Here are our top tips to rock your first year as a UTSA Roadrunner!
1. The Blue Crew are your friends!
If you're ever lost or have a question, folks in blue UTSA Libraries sweaters are always there to help you out. You can even chat with them from the Libraries website.
2. You can reserve a study room.
Need to find a study space? You can reserve one of UTSA Libraries' sought-after study rooms online. The Libraries also offer quiet computing study rooms and graduate student study rooms.
3. Print, scan, copy: It's your one-stop shop for your printing needs
Printing stations are located inside the JPL and Downtown Library. Students enrolled on a full-time basis receive $12 in printing credit at the beginning of each semester. After that, printing costs apply but the convenience makes it totally worth it. In a crunch and need to scan a few pages from a book? High-speed scanners are your best friend.
4. Get your technology at the Libraries.
Working on a project and need to film a video or take some photos? Check out technology such as a DSLR camera, video rigs for smart phones, or a Go Pro video camera. Take a look at the complete list of technology available.
5. The UTSA Libraries website has just about everything. 
The UTSA Libraries website is one of the university's most visited websites. There, you can access articles, movies and more. Use the Get It For Me service to request books and articles; when they're ready, pick them up in-person at the front desk.
6. You can enrich your sense of local history.
UTSA Libraries houses the nationally recognized UTSA Special Collections documenting San Antonio and Texas history.  Come ask about our special collections and discover something that piques your interest.