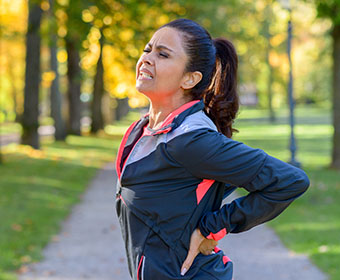 (July 10, 2018) – A professor of kinesiology at The University of Texas at San Antonio (UTSA) co-authored an article detailing the results of a chronic pain self-management program for low-income, Hispanic residents in San Antonio.
Zenong Yin, the Loretta J. Lowak Clarke Distinguished Professor in Health and Kinesiology from the UTSA College of Education and Human Development worked alongside Dr. Barbara J. Turner, the former director of the Center for Research to Advance Community Health (ReACH) and professor of medicine at UT Health San Antonio, Yuanyuan Liang, a professor at the University of Maryland School of Medicine, Maureen J. Simmonds, a professor of physical therapy at the School of Health Professions at UT Health San Antonio and Natalie Rodriguez of ReACH.
The research team worked together to develop a six-month program for patients with chronic non-cancer pain, called Living Better Beyond Pain/Vivir Mejor Más Allá del Dolor. The program was delivered to more than 110 participants aged 35 to 70 years old who had been prescribed opioids for more than two months in the past year.
The study participants were recruited from UT Health San Antonio's internal medicine, family medicine and HIV clinics, at University Health System's Robert B. Green Campus, that serve predominantly low-income, Hispanic patients.
Patients were randomly assigned to participate in a pain self-management program either through one-on-one meetings in a clinic with a trained community health worker or from experts giving group lectures at a community library.
In both study groups, participants learned stretching and exercise techniques to reduce chronic pain. They also learned how pain affects the mind and body, goal setting, tips to get better sleep, healthy diet tips, how to deal with setbacks, self-massage and mindfulness/meditation techniques.
Researchers say the key goal of this program was to provide patients with better training to learn how to manage their pain instead of only taking opioids.  
According to the Centers for Disease Control and Prevention, drug overdoses killed 63,632 Americans in 2016 and nearly two-thirds of those deaths (66 percent) involved a prescription or illicit opioid. 
Yin says pain management programs are especially important for low-income patients who might not have access to support resources due to a lack of insurance and other financial obstacles.
"Patients with chronic pain often lack the skills and resources necessary to manage their disease," said Yin. "We wanted to teach the participants multiple techniques to reduce their pain and improve their quality of life."
Fifty-eight people participated in the community portion of the six-month study. It included nine one-hour group meetings with topic experts held at local library every two weeks for three months, then once a month for three months.
Meanwhile, 53 people participated in the clinic portion of the study, which included six monthly one-on-one meetings with a health educator. Many times, the meetings coincided with the patient's office visit.
The participants were asked to complete performance tests such as a 5-times-sit-to-stand test to assess lower extremity strength and balance, a six-minute walk, a 50-foot speed walk, and physical, psychological and cognitive tests to measure the outcomes of the intervention.
During the sessions, tips about managing chronic pain were presented that were easy to understand and communicated in both English and Spanish. In addition, participants received booklets with lecture materials and photos of community members demonstrating the physical activities.
Participants selected personal goals for physical activity, mindfulness and dietary changes. Experts worked with the participants to teach them exercise, stretching and self-massage techniques.
After the six-month program, Yin said participants in both study groups showed significant improvement in their movement capabilities on performance tests like the 5-times sit-to-stand test. Researchers also observed other improvements such as reduced pain and better mood.
Yin said participants reported that the program helped them reduce their opioid drug use and taught them pain management skills that they had never been shown. Quite a few people said the program allowed them to return to more normal lives.
"We designed the program to teach people the necessary skills to manage their pain. We taught them about the psychology and physiology of pain so they understand what pain is and the lifestyle factors that impact pain," said Yin.
The program was funded by a University of Texas System 2015 Patient Safety Research Grant Award. An article describing the study results was published in the Journal of General Internal Medicine and a second article is forthcoming in the Journal of Pain.
"Communities with limited resources can benefit from this type of program to help patients improve pain coping skills, increase physical functioning and help them return to an active, productive lifestyle," said Yin.
Next, the researchers plan to test this type of program over a longer time frame and have people in rural, Texas communities participate.