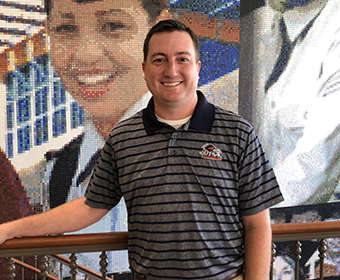 (July 5, 2018) -- William Land, assistant professor of kinesiology in the College of Education and Human Development (COEHD), is an expert in sport psychology.
In the UTSA Human Performance Laboratory, Land and his students research the cognitive and psychological factors that influence movement and motor skill acquisition in athletes.
Land studies how attention influences sport performance, the role of perceptual feedback during motor learning and how to prevent choking under pressure.
We recently asked Land about his research and the impact he hopes it will have.
Talk about the research you have underway. Why did you decide to focus on sport psychology?
My area of research deals with understanding the psychological and mental factors that help support elite athletic performance. Some of my earlier work investigated the mechanisms and strategies to prevent choking under pressure in athletes. Specifically, we saw that under performance pressure, athletes tend to change what they focus on, which negatively impacts performance. We also found that we could greatly reduce the effects of pressure by helping athletes learn to control their focus of attention. 
My interest in sport psychology, and the mental side of sports, stems from my own background playing collegiate golf. Like many athletes, I was frustrated by the tendency to play well in practice but falter during the pressure moments. This life experience led me to pursue a master's and Ph.D. in Sport Psychology from Florida State University.
Many athletes don't realize that you can practice and develop mental skills just like you can practice and develop your physical skills. Our field of work can help athletes develop the mental skillsets needed to perform up to their highest capability.
More recently, my research has begun to focus on the use of mental skills within a law enforcement population. Interestingly, the same mental strategies that have been developed for elite athletes can also be beneficial to police officers to help manage high stress situations. This work can not only help officers perform better while on duty, but also reduce the negative effects of systematic stress on health-related factors.     
What impact do you hope your research will have?
Ultimately, if I can help athletes train and perform better, then this will hopefully result in increased sport enjoyment. Now more than ever, there is increased pressure on youth athletes to perform at high levels, and this pressure can cause athletes to underperform and burn out of sports. High rates of dropout in sports is problematic given the prevalence of obesity in our society. I see my research as helping to support performance but ultimately also helping to enhance enjoyment and engagement in sports.
Tell us about the most important thing going on in your field that people aren't talking about.
One point that I consistently make with my students is that although the field is called "sport psychology", the relevance of this work goes far beyond the baseball diamond or golf course. Our field of study applies to all types of human performance whether that be law enforcement work, military or academic. Perhaps most critical is to recognize that our work on mental toughness, dealing with failure and how to handle stress are important lessons for our youth in general, and not just those in sports. I believe that our field could do more to bridge the gap in applying our work with elite athletes to the everyday youth population. 
What advice do you share with students who are interested in entering your field?
Most students who want to become sport psychologists do so because they want to work with professional athletes. While most professional teams have sport psychologists on staff, the number of these positions are limited. However, there are growing opportunities for someone trained in sport psychology to work with other populations such as collegiate and youth athletes, military personnel and law enforcement.
What makes your department at UTSA unique?
The Department of Kinesiology, Health and Nutrition is comprised of faculty with a diverse set of expertise and backgrounds. This diversity in expertise allows our department to tackle difficult questions from multiple scientific perspectives (e.g., physical, mental, nutritional and lifestyle) to gain a better understanding of the factors that influence health, performance and quality of life.