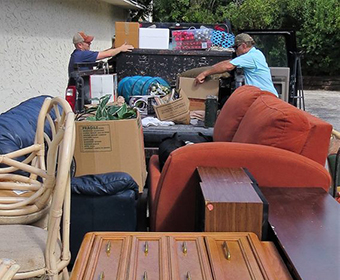 (July 6, 2018) -- A UTSA alumnus and U.S. Army veteran is helping fellow veterans make their house a home.  James Pobanz '14, '17 is a co-founder of VetStrong, a nonprofit that provides furniture and other home essentials to previously homeless veterans.
Pobanz and co-founder Barbara Walz saw a need to give back to the military community after learning that recently rehoused veterans had places to live but no beds, chairs or tables. Walz, a nurse at a veterans hospital, noticed that these circumstances impacted their health.
"A house is more than just an edifice," said Pobanz. "It's a place where one finds comfort, solace and strength. We want to help our veterans successfully reintegrate back into society, and furnishing a house is one way to do that."
Pobanz garnered enough community support to assist veterans and families in Bexar County.  Thanks to the generous support of the community and city leaders, VetStrong was able to acquire a warehouse to store donations. 
VetStrong is also teaming up with TXServes San Antonio, a coordinated network of public, private and nonprofit organizations serving veterans, service members and their families in San Antonio and Bexar County. TXServes provides thousands of service members, veterans and their families access to a continuum of providers for emergency services, employment, recreation, financial capabilities and more. When someone reaches out for help for donation of furniture, TXServes sends a request to all nonprofits that deliver this service. VetStrong can accept the request and offer assistance.
VetStrong officially launches in July with a ribbon cutting ceremony and grand opening from 10 a.m. to 1 p.m. on Saturday, July 7 at its warehouse located at 1735 Babcock Rd. in San Antonio. Donations of lightly used or new household items such as lamps, beds, couches, nightstands, linens and chairs will be accepted.