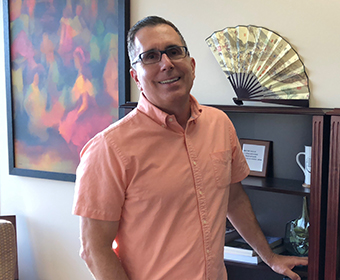 (Aug. 21, 2018) – John Bartkowski, a sociology professor in the UTSA College of Liberal and Fine Arts (COLFA), researches a wide range of topics including culture, family, religion, gender and health.
Bartkowski teaches courses such as sociological theory, qualitative research methods, evaluation research, sociology of gender, and sociology of religion.
He has published articles on religion, health, gender, family, and civil society and publishes with graduate students, as most recently evidenced in an article that compares different vegan-promoting documentaries.
Bartkowski's latest book is The Arc of Faith-Based Initiatives: Religion's Changing Role in Welfare Service Provision, coauthored with Susan Grettenberger.
We asked the UTSA professor to give us a glimpse of the work he has underway.
Tell us what you're working on now.
Much of my current research focuses on the role of religion in private and public life. In private life, I explore how people's identities (sense of self) and primary relationships (family ties, friendships) are influenced by their religious involvement.
In public life, I analyze how community-level religion (the number and types of congregations in a county) affects various outcomes like adult mortality, infant mortality, and crime. Specifically, I examine how different types of religious affiliations such as Catholicism, evangelical Protestantism, Islam, etc. place individuals and communities on different social trajectories. Basically, religious beliefs, behaviors, and belonging exert a profound influence on the life chances of individuals and communities.
I decided to focus on religion for a few reasons. First, the United States is a very religious nation. It is, in fact, one of the most religious nations on earth, particularly when compared with many European societies. Religion is an important part of the cultural fabric in American society.
Second, sociologists in general have often ignored the role of religion in shaping social outcomes. That bias toward secularizing influences—a downplaying of religion's importance—was kind of "baked into" early sociological perspectives, many of which were predicated on what was happening in Europe in the 19th and early 20th centuries. But the muted role of religion in much of Europe was not applicable to the U.S., and it took some time for that recognition to take hold in my discipline.
Third, many of the people that I study are religiously orthodox, which is to say that they are deeply committed to their faith and seek to observe it with strictness. When I study evangelical Protestant families, I focus on devout, highly active couples and youth because I want to explore how they use religion as a resource to address the challenges that life presents to them.
One good way to explore the connections between belief, behavior, and belonging is to spend time with people who are deeply committed to a distinctive worldview. Religiously orthodox people—sometimes called theological conservatives—are profoundly and unapologetically committed to their faith. That provides an excellent circumstance to explore how their convictions shape their everyday actions and relationships.          
What impact do you hope your research will have?
I hope that my work has two types of impact. First, one of my aims is for sociologists to recognize the overriding importance of religion in American society. There are many people working in the sociology of religion who have argued that religion in American society, and even around the world, must be taken seriously by sociologists at large.
In fact, my fellow sociologists of religion and I contend that colleagues in our discipline would do well to set aside their preconceptions about religion as an inherently conservative—or alternatively, an irrelevant—social force. Religion has a profound effect on social life, and its effects vary depending on the form that religion takes.
Second, there is a lot of polarization in our society today, and some of that involves religion. My work adopts an even-handed approach that reveals how religion yields positive and negative social outcomes.
For example, some types of religion have a beneficial impact on adult and infant mortality, while other types do not. Localities with a high concentration of Catholics have better mortality outcomes given the Catholic emphasis on building strong community infrastructures.
By contrast, communities with a large proportion of fundamentalist Protestants fare more poorly with respect to mortality outcomes. Fundamentalists tend to be more individualistic and are less invested in worldly pursuits, including health care. In short, the social effects of religion are complicated. Faith cannot be celebrated as a panacea or condemned as a problem. Any of these overgeneralizations misses the critical storyline of complexity and context-specific effects.
Is there something important going on in your field that people are not talking about as much as they could be?
I was fortunate to study the linkages between religion and the development of young children several years ago. Because of data limitations, this area had not been studied previously. Some additional research on that topic has appeared recently, but more is needed.
Our original study found that religion is linked to positive forms of child development when parents are on the same page, religiously speaking. However, when religion is a source of parental conflict, adverse forms of child development are more common. We have another study being submitted for review soon that examines the impact of parental religiosity on child development as youngsters get older. By third grade, religion can foster children's psychological adjustment and social competence. However, it also can undermine their academic performance in math and science. These findings are consistent with the complexity argument commonly found in my work. Religion, in this case as in so many others, is a mixed blessing.
What advice do you share with students who are interested in entering your field?
I often tell students to have a sufficiently diverse set of interests. I am not just a sociologist of religion, but also study gender, family, nonprofits, and health. So, having a breadth of expertise can be useful when moving into doctoral programs and into academia if that's what they'd like to pursue.
I also recommend that students take as many research methods courses as they can because those courses will provide them with the analytical skills they need to examine a wide range of research problems. I enjoy using both qualitative and quantitative methods to conduct research. I encourage students to develop diverse methodological skills.
I often encourage students to bloom where they are planted. As just one example, San Antonio is a great natural laboratory for sociological investigation. I am thrilled to be teaching an honors course in the spring focused on the sociology of San Antonio. Among other cultural features of San Antonio, we will be analyzing various facets of Fiesta.
I commonly tell students that learning is a two-way street. I want to learn from them, and often do, during my courses.   
What makes your department at UTSA unique?
There are many unique features exhibited by the Department of Sociology. First, we have an exceptionally productive department. Research is valued by my colleagues, and I am pleased to be in a department that has stringent research expectations. At the same time, many of us conduct research collaboratively, so there is a great sense of teamwork.
We have more sociologists of religion than any department in the U.S. and probably the world. Most sociology departments have no sociologist of religion or, at most, one person with expertise in this area. At any point in time, there are four or five of us exploring the social contours of religion.
Despite our cluster of religion scholars, we have immense breadth in our capability to study areas that are central to sociology, including health, family, race-ethnicity, and immigration.
I am in a department of people who value delivering top-notch instruction to graduate and undergraduate students. This environment helps me to prioritize teaching innovations and the preparation of students for their next stage of life, whatever that may be. I love my job and am thrilled to be at an institution that is on the rise. I consider myself incredibly fortunate to have such great colleagues.