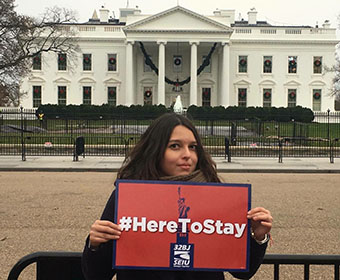 (Sept. 19, 2018) -- Andrea Ramos Fernandez, a student leader and a strong advocate of immigrant rights, was instrumental in helping UTSA establish its Dreamers Resource Center. This fall, she'll take those leadership skills to Washington, D.C. The UTSA senior has been selected to participate in the highly competitive internship in the Congressional Internship Program with the Congressional Hispanic Caucus Institute (CHCI).
Students selected for this 12-week internship learn the U.S. legislative process, work with a member of Congress and receive weekly leadership training. The Institute's leaders also have the opportunity to meet with the nation's influential leaders and receive professional development.
Ramos Fernandez was one of 23 students across the nation selected to join the Congressional Hispanic Caucus Institute this fall. She will be working in the Washington, D.C. office of U.S. Congressman Joaquin Castro, where she will receive leadership training while also taking a post-graduate level course in public policy.
"I am honored to be selected for this opportunity. I am eager to make an impact on public policy," Ramos Fernandez said.
As an undocumented immigrant to the United States, Ramos Fernandez came to the U.S in 2005 when she was eight years old. Her mother was convinced by the advice of her own parents, both U.S. citizens, to move to the U.S. after years of economic instability and systemic poverty in Mexico.
Upon the Ramos Fernandez' arrival, Andrea's mother applied to obtain legal citizenship. It took her four years to fully submit all the necessary paperwork. She is now in the midst a 23-year-long wait to receive United States citizenship.
Andrea Ramos Fernandez's motivation changed when Deferred Action for Childhood Arrivals Act (DACA) was announced and realized that she could attend college. Yet she never expected the issues that she would have to tackle as an undocumented college student.
Ramos Fernandez attended her freshman year of college at Texas State University in San Marcos, where she lived in an off-campus apartment in constant fear that the police could be called and she could potentially be deported. She eventually decided that she needed to move back home to San Antonio, and she transferred to UTSA.
"In my second semester at UTSA, I started my Public Administration degree having doubts if it was even the right move for me. After my first class into the program, Professor Gina Amatangelo openly stated that she was there for any student that needed help," said the UTSA student. "It was the first time that any teacher offered help in such a genuine way that I felt very safe with her. Gina then opened doors to opportunities that I wasn't even aware of. She led me to where I am now."
Since that time, Ramos Fernandez has been a strong advocate for underrepresented groups, particularly immigrants in the Deferred Action for Childhood Arrivals (DACA) program. As a UTSA student, she lobbied to Congress to legislate for permanent citizenship for DACA recipients.
She was also a member of the student group Immigrant Youth Leadership (IYL). She served as IYL Coordinator, one of a group of five students who wrote and presented a proposal to UTSA President Taylor Eighmy in 2017 for a Resource Center to meet the escalating needs of DACA students. 
The UTSA Dreamers Resource Center opened its doors on January 22, 2018. It offers students with a variety of services ranging from legal referrals to emotional support. Through the Dreamers Center, students learn how to navigate the university and develop a network of support within the university and throughout the community.
"Andrea was a driving force behind the creation of the center, never hesitating to take the lead when necessary and boldly speaking to issues that affect all UTSA Dreamers," said Courtney Balderas-Jacob, assistant director of the Dreamers Resource Center.
In 2017, Ramos Fernandez participated in a fellowship with MOVE San Antonio, a non-partisan and non-profit organization dedicated to helping young people become more involved in politics. Additionally, she was a speaker during the 2017 Binational Conference with México hosted by the UTSA College of Public Policy and its Department of Social Work.
Eligibility for the Congressional Internship Program with the Congressional Hispanic Caucus Institute is based on leadership skills, potential for leadership growth, demonstrated commitment to public service-oriented activities and superior analytical skills, outstanding oral and written communication skills.
"I feel so grateful to be a student in this very prestigious internship program, walking the halls of Congress, halls that were built without the intentions of a person like me to walk on -- all because someone believed that I could be a leader," said Ramos Fernandez.