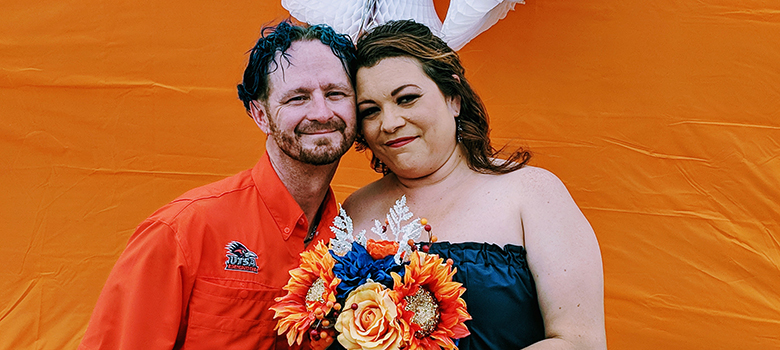 (Sept. 10, 2018) -- When the air horn blared signifying the five-minute mark before his wedding, Gary Alexander '99 tried his best to hold back the tears in his eyes. Fellow UTSA tailgaters began to swarm, cheering him on and awaiting the walk down the orange-and-blue-chalked aisle that resembled yard markers to where he would make his biggest touchdown – marrying Laura Chavez.
The couple were married on Saturday, Sept. 8 at the Alamodome parking lot in a tailgate-themed wedding to showcase their love for one another and UTSA Roadrunners football. More than 200 tailgaters, including Rowdy, stood by and applauded the pair as they were wedded in matrimony.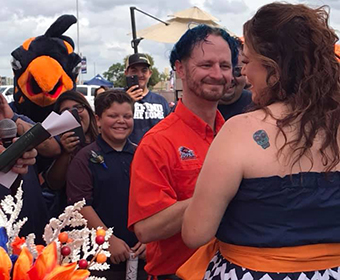 "When the official asked us to turn around and look at the crowd, I saw so many tailgaters here for us," Alexander said. "I saw so many people I know, friends, family and even people I didn't know. It's indescribable as there was so many people here for us."
After Alexander proposed to his fiancée during a UTSA tailgate last season, the couple joked about the possibility of having their wedding take place at a tailgate. Laura's father and current UTSA adjunct professor, John Chavez '12, initially thought it was "the most insane idea" but he eventually changed his mind.
"They are a fun couple and they really enjoy the UTSA tailgating experience," Chavez said, who also participated in tailgates with the couple in the past. "They're diehard UTSA fans, so this was perfect."
For the bride, sporting UTSA cowboy boots, she had never experienced a football tailgate before meeting Alexander and was overwhelmed at the adoration the couple received from the crowd of wedding guests in the lot.
"It was amazing and more than I could ever imagine, that all these people came here, for us," Laura said. "The most satisfying part was seeing him (Gary) at the end of the aisle waiting for me."
As the tailgaters lined up to congratulate the newlyweds, Alexander was taken aback by the camaraderie of the UTSA faithful who showed up for the first tailgate wedding at a UTSA football game.
The couple was later feted on the Alamodome field during the game, appearing on Kiss Cam, and receiving a number 18 Roadrunners jersey with their last name on the back.