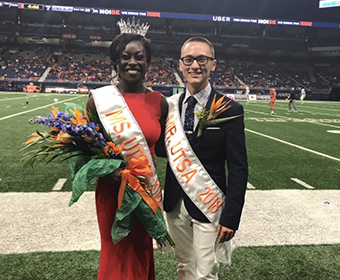 (Oct. 14, 2018) – UTSA students Hunter Kim and Temilola Grace Adedipe were named Mr. and Ms. UTSA during the halftime show at the UTSA Homecoming football game on Oct. 13. Sponsored by the UTSA Office of Student Activities and the UTSA Homecoming Committee, the award recognizes UTSA students striving for academic achievement, campus involvement and community service.
Showcasing some of UTSA's finest students, the 2018 Homecoming Court also included Madison Davison, Jacob Mauceri, Allyson Petersen and Jonathan Van Hoozen.
Candidates competed in several categories including an application process, formal interview, a platform presentation and a student vote for the chance to be named Mr. and Ms. UTSA. While each member of the Homecoming Court would be an outstanding representative of the university, only two can claim the honor.
Kim is a Houston native and computer engineering major. He is active with the Institute of Electrical and Electronics Engineers and serves as a coordinator for the UTSA Ambassadors, a member of Chi Alpha and works as a resident assistant at Alvarez Hall. Kim's platform, Legacy X, focuses on iconic, impactful and legendary student-led traditions at UTSA to create a sense of school pride.
Adedipe also hails from Houston and majors in biomedical engineering. She serves as a First-Year Experience peer mentor, events coordinator for the National Society of Black Engineers, black student orientation committee chair for the Black Student Leadership Council and a UTSA Ambassador. She is also a former orientation leader. Adedipe's platform, Use Your Wings, focuses on connecting UTSA students to internship opportunities within the San Antonio, Texas and national communities through collaboration with UTSA Alumni and the University Career Center.      
Through the next year, Kim and Adedipe will represent the student body and the university at a number of special events and functions.