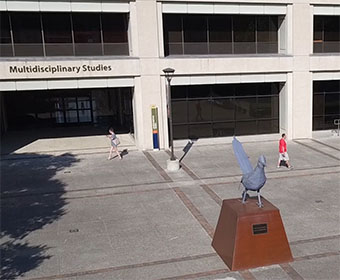 (Oct. 26, 2018) — The UTSA Graduate School and UTSA Honors College will relocate administrative and staff offices on the Main Campus, Provost and Vice President for Academic Affairs Kimberly Andrews Espy recently announced.
The Honors College, which currently is housed in the Multidisciplinary Studies Building, will move to the Graduate Studies and Research Building into space that has been utilized by the Graduate School. Correspondingly, the Graduate School will move to suites in the MS Building now occupied by the Honors College.
"Relocating these two areas is a mutually beneficial move that supports their strategic enrollment and student success goals," said Espy. "I commend the leadership and staffs in both the Honors College and Graduate School for championing this effort and working to ensure a successful transition for the students they serve."
The relocations will take place at the end of the fall semester; both the Graduate School and the Honors College will be fully operational in their new spaces by Jan. 2, 2019.
"Relocating the Graduate School greatly benefits our graduate students, who are studying and working in those academic buildings—such as the MS Building—that comprise the central campus," said Interim Vice Provost for Graduate Studies and Dean of the Graduate School Can Saygin. "Moreover, the move aligns with the Graduate School's renewed focus on providing increased support to the academic colleges and departments that deliver graduate education at UTSA and to enhance collaboration with those areas."
The Graduate Student Professional Development Center, which offers programming and co-curricular space for the university's master's and doctoral students, also will move to the MS Building, said Saygin.
For the Honors College, Dean Sean Kelly says the move to the GSR Building affords the college the opportunity to create a multifunctional center for students and also places it in closer proximity to on-campus student housing. Earlier this month, the university announced plans to build a comprehensive Residential Honors College, which would include student residence rooms as well as classrooms, event and study spaces, and other facilities.
An additional benefit of the move, Kelly says, is Honors College administrative offices now will share a suite with University College in the GSR Building.
"Honors College and University College has long been partners in fostering student success, and we excited for this opportunity to work even more closely together," said Kelly. "Because University College and Honors College both support undergraduate students across all academic disciplines, there are natural synergies to be gained by having the two colleges co-located."