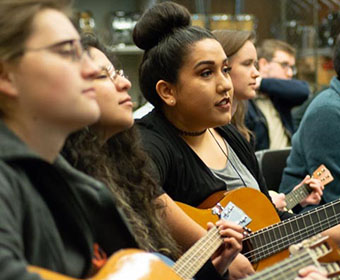 (Oct. 5, 2018) -- Si Millican, professor of music in the UTSA Department of Music, has been named a recipient of the Modern Band Higher Education Fellowship by the nonprofit organization Little Kids Rock.
As a part of this fellowship, Millican traveled to Florida International University where he received training in the nonprofit's Modern Band Programs. With a faculty member serving as a fellow in the program, UTSA will receive instruments including guitars, drums sets, keyboards and vocal microphones and amplifiers for students to use in the music teacher education program. UTSA students will also receive teaching plans, resources and additional training from the Little Kids Rock teaching faculty.
"These instruments help us ensure that music education graduates from UTSA are equipped to teach not only those band, choir and orchestra programs, but also the music that students and their families find important," said Millican.
Modern Band teaches elementary through high school students to perform, improvise and compose using popular music instruments and featuring musical styles like rock, pop, hip-hop and country. Modern Band instruments include the tools of popular musicians including guitars, keyboards, drums, vocals, and electronics. The Modern Band Fellowship was created to expand high quality teacher education for future music educators in colleges and universities.
Other universities in the fellowship include the University of Houston, Brigham Young University, University of Massachusetts, Indiana University of Pennsylvania, Duquesne, Kent State, University of Kentucky, Syracuse, Truman State, UT-Rio Grande Valley, Ithaca College, Berklee College of Music and the University of Northern Colorado.
Little Kids Rock is a 503(c)(3) non-profit that supports underserved elementary and secondary school music programs across the United States. Its honorary board of directors includes notable musicians such as Carlos Santana, Bonnie Raitt, Paul Simon, Ziggy Marley and Slash from Guns N' Roses.