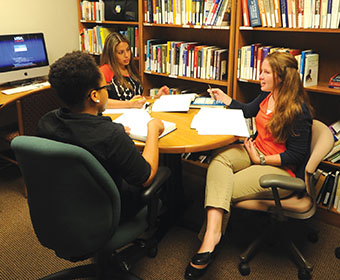 (Oct. 30, 2018) -- Current UTSA graduate students, as well as practicing professionals, are now able to develop skills in program evaluation through a new graduate certificate program in the UTSA College of Education and Human Development's Department of Educational Psychology (EDP). 
The Graduate Certificate in Program Evaluation, which began this fall, is designed to help graduate students and professionals develop foundational skills in research methods and program evaluation and assessment. The 15-hour program, led by co-coordinators Drs. Michael Karcher and Guan Saw, provides practical experience collecting and analyzing data, and is aligned with the American Evaluation Association's Program Evaluation Standards and Guiding Principles.
"This is a cross-disciplinary program with a focus on the core knowledge and skills of evaluation," said Saw, EDP assistant professor. "We currently have students enrolled in the program from different departments across the college, including the Departments of Educational Leadership and Policy Studies, Bicultural-Bilingual Studies, and Educational Psychology."
Current degree-seeking students can apply to waive two foundational courses with courses that they have already taken in their respective degree programs. These students would be able to complete the graduate certificate program in as little as nine hours by taking two core courses and one practicum course on program evaluation.
The program is open to all graduate students in education, psychology, public policy and administration, sociology, and social work, as well as practicing professionals in the community.
"In all of these fields, there is a high demand for professionals who have an understanding of evaluation and data analysis," said Dr. Jeremy Sullivan, EDP department chair.