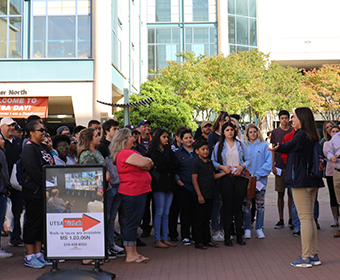 (Oct. 3, 2018) -- Future Roadrunners will see what Roadrunner life is all about at UTSA Day, the university's campus-wide open house. On Saturday, Oct. 20, the entire university transforms into an open house for future Roadrunners and their families to explore and experience. From 9 a.m. to 2 p.m., the campus will be teeming with activities and information sessions for guests to learn about academics and student life.
 >> Watch a video about the UTSA Day experience.
UTSA Day highlights include:
Presentations on academic programs, admission requirements and financial aid


Tours that span across the university, including on-campus residential housing and campus recreation             
A P-20 Mobile Go Center that can assist guests with registering for Spring Orientation            
An information fair hosted by various on-campus offices such as testing, athletics, career services, dining and more            
Future Roadrunners can get help with submitting their Apply Texas or FAFSA application by visiting the John Peace Library GroupSpot Room 
Opportunities to connect with faculty, staff and current UTSA students 
Try one of UTSA Dining's lunch options which include the Roadrunner Café, Starbucks, Subway and many more 


Visit the UTSA Bookstore to pick up some UTSA swag and see what types of textbooks and school supplies are conveniently available on campus
"UTSA Day is a unique opportunity to experience UTSA through the eyes of a college student," said Beverly Woodson Day, UTSA director of admissions. "It's one of the best ways to see UTSA firsthand, get any questions you have answered, meet others in the UTSA community, and get a head start on preparing for your college journey."
Free event parking for UTSA Day is available in unmarked spaces in the Brackenridge Ave. Lot 1 and Lot 2 (BK1, BK2).
For more information about UTSA Day and to sign up, visit utsa.edu/utsaday.