(Nov. 26, 2018) -- Lights! Camera! Time to graduate!
After years of hard work, late nights at the library and endless studying, it is finally time to cross the Commencement stage.
What better way to commemorate this moment than with an awesome photo shoot? We're breaking down the best campus spots to snap the quintessential graduation photo and make a memory.
>> Learn more about UTSA Commencement including traditions, regalia and staying involved after graduation.
The Sombrilla Fountain
A treasured Roadrunner meeting spot, the Sombrilla Fountain tops our list of grad photo locations. Legend has it that 'Runners who touch the fountain during finals week will get an extra boost of good luck. And it's tempting, but don't jump in! The legend also says that touching the Sombrilla at any other time throughout the semester could jeopardize your chances of earning that A. So, grab the cap and gown and pose in front of UTSA's iconic fountain. Years into your career, you'll be glad you did.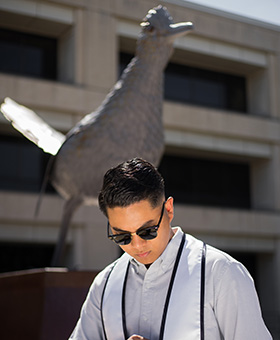 The Roadrunner Statue
The Roadrunner Statue is one of the newer additions to campus. After 1,000 hours of work by artist R.G. Box, the iron statue, which sports 1,000 feathers and stands at six feet tall and 11 feet long, landed at UTSA in 2013. Today, it rests inside Central Plaza near the Sombrilla and watches over 'Runners are they head to class every day. It's also a celebratory staple during UTSA traditions like Fiesta, Best Fest and Homecoming. Take a photo with Rowdy (without climbing on…too dangerous…we want you at commencement!) and show off your best "Birds Up" pose.
The UTSA Monuments
The UTSA Monuments are a popular photo spot for graduating seniors. Located at the UTSA Oval, the Monuments greet 'Runners as they enter the Main Campus each day. Plan ahead if you want a photo shoot here without being rushed. These spots become quite crowded as Commencement gets closer and when they're all lit up to celebrate our graduates.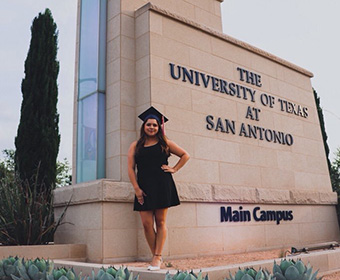 The UTSA Benches
You must be tired from all of that studying, so, 'Runners, take a seat (or lie down) on a UTSA bench. These signature orange and blue benches were commissioned for the UTSA campuses. They're located at the Main and Downtown Campuses. Oftentimes, families with multiple generations of Roadrunners will take photos on the benches. There's something special about a pic featuring two, three or four generations of UTSA graduates.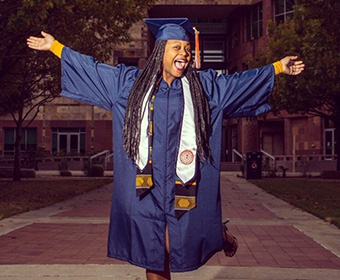 The San Antonio Skyline at the Downtown Campus
The Alamo City is an important part of your college narrative, 'Runners. Show off your San Antonio pride with a picturesque photo of the skyline. You can find a gorgeous view of the city at the Downtown Campus balcony inside the Frio Street Building, Room 4.450A conference room. Just call ahead then ask reception for permission to enter.
Roadrunner Memorial Garden
The Roadrunner Memorial Garden is a new site that was developed by the UTSA student body as a place to reflect and cherish Roadrunners who have passed. The garden was dedicated in February 2018 and, just last May, UTSA students began a new tradition: They now kneel at the Memorial Garden to honor those who have passed. Visit this tranquil garden and celebrate the inspirations in your life.
Graduation photos are the highlight reel of your college career. Have fun and remember to smile. It's your time to shine. And share your photos with us on social media using hashtag #UTSAGrad18.