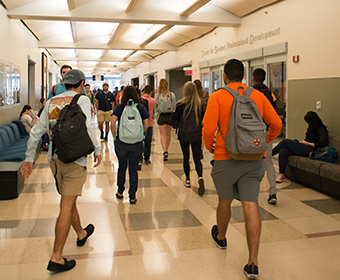 (Nov. 19, 2018) -- UTSA and the National Security Agency (NSA) have announced an articulation agreement to create accelerated degree plans in cybersecurity and modern languages and enhance workforce development in those fields.
The partnership allows NSA employees who complete coursework through the agency's National Cryptologic School (NSC) to earn undergraduate credit hours at UTSA. Eligible students will be able to transfer NSC credit hours into three UTSA degree programs:
Bachelor of Business Administration in Cyber Security
Bachelor of Arts in Spanish
Bachelor of Arts in Modern Language Studies.
The BBA in Cyber Security will be offered online; the BA in Spanish and BA in Modern Languages will be offered onsite at UTSA.
The agreement will be formally signed by UTSA President Taylor Eighmy and Leonard Reinsfelder, commandant of the National Cryptologic School, in a ceremony at 2 p.m. on Monday, Nov. 26 in the Durango Building La Villita Room (DBB 1.116) at the UTSA Downtown Campus.
"Innovative partnerships such as this are so critically important for UTSA to help meet the needs of our government and industry partners," said Eighmy. "We are honored to have the opportunity to provide this programming to NSC students to help them advance in their career and better serve our country through their work in the NSA."
Reinsfelder echoed those statements.
"We are very proud of the Accelerated Degree Program and we want to make sure that our employees have the opportunity to further their education while also serving their country," he said.
NSA had partnered with fewer than 10 higher education institutions to offer accelerated degrees for its employees. Others include Angelo State University, Augusta University, Capitol Technology University, Dakota State University, Drexel University, University of Maryland University College and University of West Florida. Nancy Martin, former associate vice provost for University College, will lead the project for UTSA.
"A lot of effort by both NSA and UTSA administrators, particularly Dr. Martin, has gone into this partnership, and we are so thrilled to see it realized," said Heather Shipley, senior vice provost for Academic Affairs and dean of University College. "NSA reached out to us specifically because of UTSA's strong curriculum and distinguished faculty in Modern Languages and Cyber Security, but there is a possibility that the partnership could expand in the future to include other programs of relevance to NSA personnel."
"NSA in Texas is excited to continue building our UTSA partnership," said Col Gregory J. Gagnon, NSA in Texas Commander. "This agreement benefits both institutions and will be critical in developing the expertise of our workforce as they tackle some of America's toughest problems."