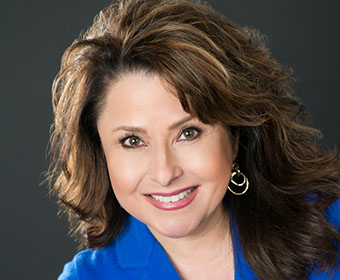 (Dec. 4, 2018) – When more than 4,200 eligible UTSA graduates celebrate their academic achievements this month at UTSA Fall Commencement, they will hear a special message to encourage and inspire them as they take their next steps in the workforce or academia. Ms. Arcilia Acosta, an entrepreneur and a nationally recognized speaker and philanthropist, will deliver the keynote addresses at two ceremonies at the Alamodome on Sunday, Dec. 16.
Acosta is the President and CEO of CARCON Industries and Construction, a full-service construction firm based in Dallas with offices throughout Texas. She is also the founder and CEO of Southwestern Testing Laboratories (STL Engineers), a geotechnical engineering and construction materials testing firm and her oil and gas division is based in Midland. She and her companies have received numerous national awards for construction and for her civic leadership.  She is an inductee to the National Women's Business Hall of Fame. In 2016, Acosta was appointed to the Texas Higher Education Coordinating Board by Governor Greg Abbott.
Acosta has previously served as Commencement speaker at Texas Tech University, Mountain View College, Texas Woman's University and Sam Houston State University.
>> Learn more about UTSA Commencement including the significance of UTSA's academic regalia.
UTSA's first Commencement ceremony begins at 10 a.m. to honor graduates from the College of Architecture, Construction and Planning, College of Business, College of Education and Human Development and College of Public Policy.
At 4 p.m., the second ceremony will be held to honor graduates from the College of Engineering, College of Liberal and Fine Arts, College of Sciences and the University College.
Fall 2018 graduates are encouraged to arrive two hours prior to their ceremony for check-in, located on the ground level of the Alamodome. Family and friends are also welcome. All Roadrunners and their families and friends are encouraged to share their Commencement experience on social media using #UTSA and #UTSAGrad18.
This fall's graduating class will bring UTSA's alumni network to 126,000 Roadrunners strong.