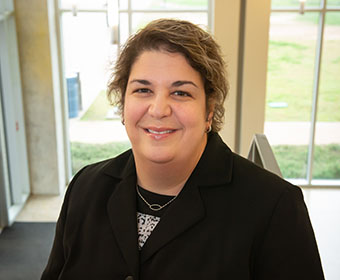 (Dec. 19, 2018) -- Following a national search, UTSA has named Suzanne Patrick as its new Director of Equal Opportunity Services (EOS) and Title IX Coordinator.
In this role, Patrick will lead UTSA's institutional commitment to providing equal employment and educational opportunities for all faculty, staff and students regardless of race, color, national origin, religion, sex, age, veteran status, disability or sexual orientation.
As UTSA's Title IX Coordinator, Patrick will oversee UTSA's compliance with the federal law that prohibits discrimination based on gender, which includes investigating any complaints of sexual harassment, violence or assault at the university.
"It is paramount that UTSA provides an inclusive learning and working environment free of all forms of discrimination, harassment and misconduct," said UTSA President Taylor Eighmy. "Suzanne's role is critical to these efforts. Her leadership and experience will be tremendous assets as we continue to address some of the challenging issues we experienced this semester that point to the work we need to do in these areas."
Prior to UTSA, Patrick served as Compliance Officer and Title IX Coordinator at Our Lady of the Lake University where she oversaw Title IX, ADA and other non-discrimination cases. Her higher education experience includes previous roles at St. Mary's University, University of Maryland School of Law and The George Washington University School of Law.
Patrick, who began in her new role on December 17, holds a law degree from the University at Buffalo, State University of New York, and a bachelor's degree in criminal justice and political science from the University at Albany, State University of New York.
"Suzanne's legal training and higher education experience uniquely position her to address the necessary requirements of the laws related to EOS and Title IX in a compassionate and caring way," said James Weaver, executive director of UTSA Institutional Compliance and Risk Services.
"I am excited to join UTSA and help lead our efforts to address these very important issues faced on our campus and throughout the country today," said Patrick. "I am looking forward to creating positive momentum for EOS and UTSA by working closely with faculty, staff, students and the community as a whole."
Maria Perez, who has served as Interim Director of EOS and Title IX Coordinator for the last seven months, will return to her role as Senior Compliance Management Analyst.
"Maria has been instrumental in changing the effectiveness, efficiency and transparency of the EOS office during the short time she served in her interim role, and my sincere thanks go out to her," said Eighmy.