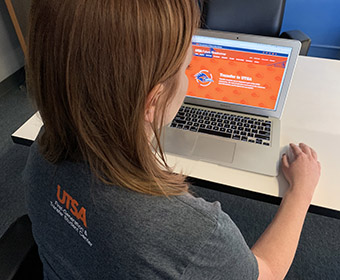 (Dec. 6, 2018) -- It's important to make intentional and informed decisions on the path to earning a college degree. Fortunately for Future Roadrunners who are transferring from another institution, UTSA now offers a helpful resource called the Transfer Credit Calculator.
Transferring from one higher education institution to another can be a pesky chore, but UTSA aims to solve and simplify this with the new Transfer Credit Calculator. Personalized to a student's major, this calculator will let Future Roadrunners record every college credit they've earned from past institutions and will show them which ones could transfer to UTSA.
Transfer students can use the Transfer Credit Calculator by opting to create an account (to save their progress), selecting their UTSA major and then by plugging in any past colleges they've attended and courses they've taken.
>> Try out the UTSA Transfer Credit Calculator.
After students record all of their credits, the calculator will then generate a detailed report that lists the credits. It also displays a percentage that shows how close they are to earning their degree at UTSA for their selected major, positioning them for success in their college career. 
After a transfer student has applied to UTSA, they will still need to go through the official evaluation process. The Transfer Credit Calculator is an unofficial transcript evaluation. Although the calculator report is an unofficial estimate, it provides a good indicator of what it's like to transfer to UTSA.
"The Transfer Credit Calculator makes it easy for prospective transfer students to know what classes could potentially transfer to UTSA and how far along they will be in earning their intended degree," said Beverly Woodson Day, UTSA director of undergraduate admissions. "It also provides staff with a helpful resource to share with those interested in transferring to UTSA."