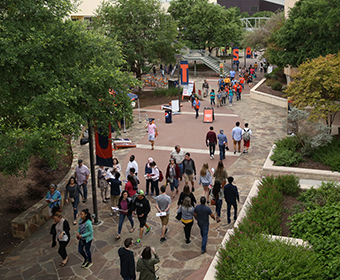 Editor's Note: UTSA President Taylor Eighmy sent this email to UTSA faculty and staff today.
(Dec. 12, 2018) -- Dear Roadrunners,
I am writing to share some changes to our Academic Affairs division.
Last March I created two Interim Vice President positions to stand up Presidential Initiatives on Student Success and Strategic Enrollment and establish new campus divisions dedicated to these areas. Dr. Rhonda Gonzales and Dr. Lisa Blazer have done outstanding jobs in these interim roles.
With our Integrated Student Success and Strategic Enrollment plans now in place, the time is right to evaluate the best organizational location for these two important units. Over the last several months it has become clear to me that full integration into our academic enterprise is key to maximizing our effectiveness in these areas.
As a result, I have decided to transition these two positions to report to Dr. Kimberly Andrews Espy, Provost and Vice President for Academic Affairs. In January we will embark on national searches to fill these two roles, and I have encouraged both Rhonda and Lisa to become candidates. Both positions will continue to serve on UTSA's Senior Leadership Team.
Academic Affairs, Student Success and Strategic Enrollment already work very closely together due to their multiple points of intersection. This new organizational structure—a common model found at many UT System and peer model institutions—formalizes their relationship as a cohesive team, facilitating broader faculty engagement throughout these areas and full alignment across academic program delivery.
I am proud of the excellent work Lisa and Rhonda have done with their teams over the last nine months. Under their leadership, we have already made significant progress toward our ambitious enrollment, retention and graduation rate goals. I am looking forward to their ongoing contributions as we continue to move the dial in these areas that are so vitally important to UTSA's future.
With appreciation,
Taylor Eighmy