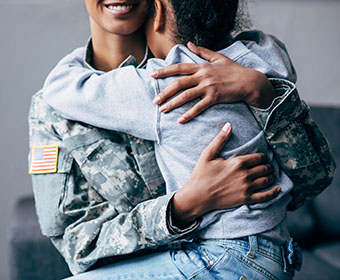 (Jan.25, 2019) – UTSA, an urban serving university located in Military City USA, is involved in an exciting research project with Our Lady of the Lake University (OLLU) to document the diverse experiences of women during different periods of war.
UTSA researcher, Kirsten E. Gardner, and Valerie A. Martinez, assistant professor of history at OLLU, were awarded a $100,000 grant from the National Endowment for the Humanities (NEH) for the creation of a digital archive of oral histories of women in the military from World War II to the present.
Gardner and Martinez are the co-directors of this two-year collaborative project called "An Oral History Project Dedicated to Women and War".
This grant will allow the researchers to expand the scope of traditional military history to include minority women and females from other underrepresented groups. In addition, the project supports experiential learning for humanities students at UTSA and OLLU to get experience conducting oral histories, transcribing, narrating, and organizing historical data.
"As women are eligible for all roles within the U.S. military, including combat, and occupy historically exclusive male positions, this project will be one of the first to document and analyze the significance of female military combat participation and how this has impacted their wartime and postwar lives," explained Gardner, an associate professor of history and chair of the UTSA Department of History.
UTSA and OLLU undergraduate and graduate students will interview 50 women to get their firsthand accounts about racial and gender issues they experienced during their time in the military, what influenced them to join the military, and the impact their service has had on them and their families.
The project will span multiple semesters and will launch with the Oral History Institute (OHI) in May 2019. During the OHI, graduate students will get to hear experts on oral history and faculty will learn best practices in collecting female veterans' oral histories to implement during their 2019-2020 courses.
Students will learn about the oral history process, how to conduct interviews, transcribing, analyzing and writing a synopsis of the interview during sessions called "History Harvests" spanning three semesters as they gather the history of women's contributions to the South Texas military. UTSA and OLLU students will also be invited to apply for paid internships to participate in this research project during the Spring and Fall of 2020.
"Usually you hear military history from the male perspective and this project is unique because we put women's stories at the forefront. People love stories and can learn so much from the oral histories that students will collect," said Gardner.
UTSA Libraries will host and maintain a digital and archival repository of the oral history interviews. An anthology will be created that includes a series of faculty and student authored articles dedicated to highlighting the best practices in Veterans Oral History, Military History, Women's History and teaching gender and military history
"San Antonio is a culturally rich region with a majority Latino population and strong military tradition and is an ideal location to examine the diverse experiences of women in the military during different periods of war," said Gardner.
This project will be a collaboration between UTSA, OLLU, the UTSA Institute of Texan Cultures, UTSA Libraries Special Collections which includes the Women's Overseas Service League archive, and the Lackland History Center.
"UTSA, an urban serving university, is leading this project to build San Antonio's reputation as a center of research on women and the military," said Gardner.
At the end of the two-year project, an anthology from faculty and students will be disseminated to the larger public.
"The goal is to document recent stories and histories so that decades from now people can see what the experience is like for female veterans," said Gardner.