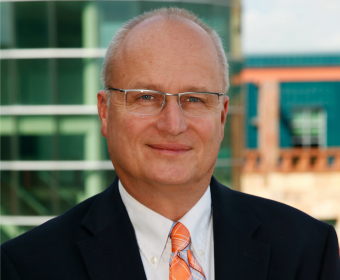 (Jan., 23, 2019) -- UTSA Provost and Vice President for Academic Affairs Kimberly Andrews Espy today announced the appointment of Lloyd Potter as interim dean of the UTSA College of Public Policy, effective Feb 1.
"With Rogelio Sáenz's decision to return to the faculty to focus on his research, it is important to have an interim dean in place now to oversee the budget and programming planning for the 2019-2020 academic year," said Espy. "I am grateful to Dr. Potter for filling this role and also to Dean Sáenz for his service to the university and his continued assistance in this leadership transition."
A professor of demography, Potter has served as director of the UTSA Institute for Demographic and Socioeconomic Research since 2008. He was appointed Texas State Demographer in 2010 and serves as director of the Texas Demographic Center, housed at UTSA. The center distributes census information for the state, as well as Texas population estimates and projections.
Potter holds a Ph.D. in demography and sociology from the University of Texas at Austin, a master of public health degree from Emory University, an M.S. degree in education from University of Houston at Clear Lake and a B.S. degree from Texas A&M University. His research focuses on health-related demographic topics and impact on public policy, and he has been active in the training of applied demographers.
"This is a time of tremendous excitement and development for the university and the Downtown Campus, and my goal is to help our departments continue to strengthen their capacity to conduct research, teach and provide service," Potter said. "I will work closely with Provost Espy and my colleagues throughout the college to ensure the faculty and, most important, the students are fully supported during this period."