(Jan. 31, 2019) -- A fascination with neuroscience as a high school senior led Raul Wilshire to UTSA and its work underway in neurobiology. Born in Japan to a military family, Wilshire is certainly familiar with traveling in search of a home, and he seems to have found one at UTSA in Professor Jenny Hsieh's laboratory.  Within the lab, his peers and mentors have inspired him to go into research and apply for graduate school. In Wilshire's words, it has been a "life altering experience."
Wilshire is currently working with plasmids, a segment of DNA independent of the chromosomes and capable of replication, occurring in bacteria and yeast. While many aren't that familiar with these small, circular, double-stranded DNA molecules, Wilshire understands that what he is doing could significantly impact the medical world.
UTSA Today recently sat down with him to ask a few questions.
Please explain what your research entails and what plasmids are?
I'm currently working with Dr. Lybrand and Dr. Varma in Dr. Hsieh's lab on a cloning project that will hopefully engineer a G deleted rabies virus to trace neurons anterogradely instead of retrogradely. To give a little background, many viruses such as the rabies virus have been engineered to be non-viral (initially) so they can be used to deliver genetic information of our choice to cells we target. The genetic information (aka DNA) we use to manipulate the viruses take the form of a ring-like structure called a plasmid.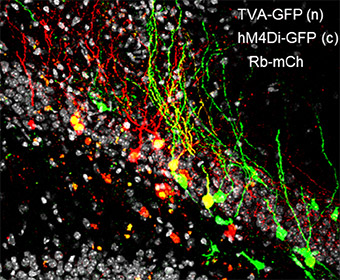 Today, a very common method for tracing neurons is inserting a plasmid that codes for GFP (green florescent protein) into a virus for transport. As the name states, when GFP is expressed in a cell, it's displayed as a bright green color that can be seen under a microscope. While this is a great tool, the limitation is that the rabies virus can only "infect" cells with GFP in a retrograde direction from the target cell because that is how it functions naturally. So that means we will only be able to see the neurons feed into the target cell. 
I'm working on "splitting" the "retrograde plasmid" and removing the retrograde "piece." I want to replace it with a small section of DNA that codes for the virus to infect anterogradely. Before we can insert this new "anterograde" plasmid into the virus, we must insert this plasmid into bacteria and screen the bacteria to see if they contain the new plasmid we made or not. This is the cloning and transformation aspect of the project. These steps must be done because it can be difficult to split and insert new sections of DNA into plasmids. If this project is successful, it will be used as a new tool in the word of neuroscience. To be able to mark the outputs of target neurons will greatly assist in analyzing the circuitry of the brain and how certain disease may affect it.
How does this benefit the everyday person?
Since the brain is so complex, there aren't many "cures" for people suffering from neurological disease or injury. While this is disheartening for people who may be affected or have loved ones affected by neurological trauma, this research can serve as a beacon of hope to them. We can assure these people that there are thousands of people out there actively working to find the solutions to these problems and help those in need.
Throughout the research, what has fascinated you the most?
The most fascinating thing about my research so far is just discovering how dynamic the human brain really is. Although we may be focused on one particular aspect of the brain, whether it be a specific disease or mechanism, the sheer amount of approaches and directions we can go with that one concept is mind blowing. There are so many different factors that could potentially play a role in our research that it can be overwhelming.
That is one aspect that drives my passion for regenerative medicine. There are so many different avenues we can take in tackling the concept of regenerating nerves and brain tissue that I cannot contain my excitement for what the future may hold in this area!
What is it that fascinates you the most overall with research?
While there have been many great discoveries in the field of neuroscience, the fact that there is so much we don't know is what is most fascinating. The brain is so complex, and we are still unveiling the many mysteries surrounding this organ. To think that I could play a part in discovering more aspects of it that can be used to help those in need is very humbling.
Where could this research ultimately take you?
I believe this research could really play a part in revolutionizing and reengineering how we study neurological diseases and injury. The research I'm doing under Dr. Hsieh's mentorship will advance me to my ultimate goal of being a successful Ph.D. student in the field of regenerative medicine.
So, where would you like to be in 10 years?
The plan I have is to apply for graduate school. In 10 years, I hope to have my Ph.D. in Neurobiology and be working either as faculty at a university or working for a company that focuses on regenerative medicine.