(Jan. 18, 2019) -- UTSA Air Force Reserve Officer Training Corps (ROTC) detachment 842 is gaining national attention. It has been named the United States Air Force (USAF) 2018 High Flight award winner, signifying the best large ROTC detachment in the region, an area spanning from Louisiana to Hawaii. UTSA's program is recognized for its relentless focus on cadet development through deliberate training, engaging experiences and a genuine desire to invest in future leaders.
Several UTSA ROTC members also received individual honors from the USAF. Agustin Llano, the UTSA Air Force ROTC program manager, was selected as the nation's University Employee of the Year Air Force ROTC. Two staff members were also selected for regional awards. Captain Jesse Beinhower was named Education Officer of the Year and Captain Anthony Guajardo '11 was selected as Recruiting Officer of the Year.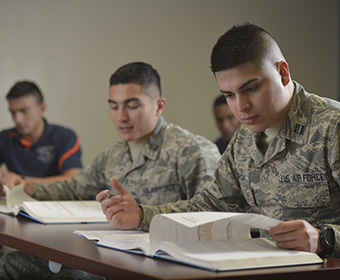 "I am so proud of this detachment, our staff and our cadets," said Lieutenant Colonel Brian Rendell, commander of the UTSA ROTC detachment. "Our team works incredibly hard to train the next generation of Air Force officers, and these accolades speak to the greatness of this detachment and this university. We fully believe in UTSA's focus on student success, and do everything we can to invest in our students through engagement, educational support and experiential programs."
The UTSA Air Force ROTC program includes about 200 cadets, making it the second largest detachment in Texas, and one of the 20 largest in the nation. Demographically, the detachment is more diverse than the Air Force and is comprised of cadets from UTSA and six other San Antonio area colleges and universities.
The detachment mission is to recruit great people, develop them into scholar-warrior leaders who take ownership and engage in partnership, then commission them as exceptional officers in the United States Air Force.  
"It's far too simple to say that we commission officers because the Air Force needs them," said Rendell. "The truth is deeper than that—we build exceptional officers because our world needs people who stand out by how they live their lives, how they lead and the impact they make on the world."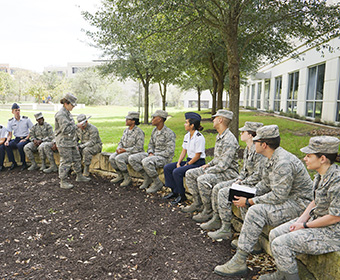 The cadets go through more than 1,000 hours of career-focused training conducted through academic classes, leadership training, physical training, field training and numerous other professional development opportunities. The cadets have conducted field activities at Camp Bullis, flown in jets at Randolph Air Force Base, participated in physical training with Air Force Special Forces, and even traveled to China for specialized language training.
"The reasons people join the Air Force ROTC program at UTSA and the reasons they stay in the program varies," said Captain Glen Peoples, a detachment recruiting officer. "Our program is for people interested in everything from community, relationships, tradition, service, career, life skills or an adventure."
Qualified cadets are also eligible for financial support through scholarships and stipends.
"Cadets connect with one another here and form bonds that last a lifetime," said Peoples. "They're joining a family. In fact, two of our cadre members, Captain Celeste Florell '08 and Captain Guajardo, graduated from UTSA and earned their commission from this very detachment. They believed so much in this cause, that they volunteered to come back to UTSA to reinvest in the program as experienced officers."
This year marks the 30th anniversary of Detachment 842, which has also been named the top ROTC detachment in the nation twice over the past 10 years. Later this year, it will host a homecoming celebration to commemorate this historical milestone, and the many awards the detachment has won over the past three decades.