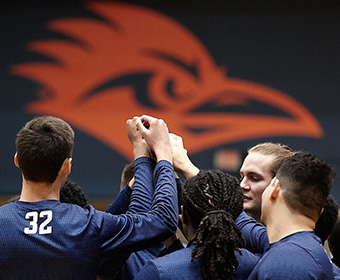 (Feb. 18, 2019) --  Conference USA announced its initial men's basketball Bonus Play broadcast schedule and tip times for the remainder of league play.
UTSA will open Bonus Play on Thursday, Feb. 28, when it hosts Old Dominion for the second time this season. Tipoff is set for 7 p.m. at the Convocation Center and the game will be televised on CBS Sports Network.
The Roadrunners will stay home and host UAB on Sunday, March 3. That contest will tip off at 3 p.m. and is slated for broadcast on CUSA TV.
UTSA then will travel to Bowling Green, Ky., to face WKU on Wednesday, March 6. That matchup will be televised on beIN SPORTS with a 6:30 p.m. tipoff.
The Roadrunners will conclude Bonus Play on Saturday, March 9, at Southern Miss. That regular season finale is scheduled for a 5 p.m. start in Hattiesburg on CUSA TV.
UTSA's C-USA Bonus Play schedule

Feb. 28            Old Dominion  7 p.m.  CBS Sports Network
March 3           UAB  2 p.m.  CUSA TV
March 6           at WKU  6:30 p.m. beIN SPORTS
March 9           at Southern Miss   2 p.m.  CUSA TV
>> View the entire C-USA 2019 Bonus Play schedule.
UTSA — 15-12 overall — completed the first 14 conference games with a 9-5 record, good for a three-way tie with WKU and Southern Miss for second place behind Old Dominion (11-3). By virtue of the Roadrunners' record against the other two second-place teams, they will be the No. 4 seed in the group of 1-5 seeds, which also includes fifth-place UAB (8-6).
Once the 18-game, regular-season league schedule has been completed, 12 teams, based on their overall conference record within their respective group, will be seeded in the conference tournament. For example, if a program lands in the second group (6-10), it will seed no higher than six and no lower than 10 in the tournament field.
The 2019 Air Force Reserve C-USA Basketball Championships presented by Baylor Scott & White Sports Performance Center at The Star will be held March 13-16 at the Ford Center in Frisco, Texas. UTSA fans may purchase their all-session tickets online or by calling the UTSA Athletics Ticket Office at 210-458-UTSA (8872).