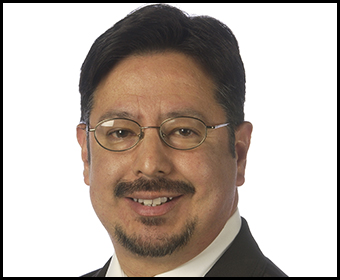 (Feb. 12, 2019) – The UTSA Small Business Development Center (SBDC), a leading service center of the South-West Texas Border Small Business Development Center Network and part of UTSA's Institute for Economic Development, announces the appointment of Richard J. Sifuentes as Director of UTSA SBDC.
Sifuentes is an accomplished leader with over 37 years' experience in upper level management, business advising, procurement, and project management. Prior to joining UTSA SBDC, Sifuentes spent 17 years in leadership positions with the Department of Defense and United States Air Force and received the Department of the Air Force Award for Exemplary Civilian Service.   
Sifuentes also owned a small business where he gained first-hand experience about the challenges business owners face daily. He has been serving as Interim Director of the UTSA SBDC since December 2018 and has been Assistant Director since 2012. He joined the UTSA SBDC team in 2005 as a Business Development Specialist and is the recipient of numerous certifications and awards during his tenure.
In his role as Assistant Director, he remained active as a senior business advisor while mentoring his teammates and contributing significantly as a representative of the SBDC and Institute for Economic Development leadership teams. The UTSA SBDC has routinely and annually produced approximately $50 million  in capital formation, assisted in starting and expanding over 160 companies and businesses, and created and retained over 2000 jobs in Bexar and surrounding counties.
"Richard's talents, dedication, and SBDC experience are a winning combination in this key leadership role. He has worked tirelessly to support UTSA's mission of economic development by fostering small business success," said Al Salgado, interim director for the UTSA Institute for Economic Development.
UTSA SBDC is the state's highest-producing center. In 2018 alone UTSA SBDC created 1,635 jobs, trained 7,232 attendees, and developed over $62 million in capital formation. Sifuentes' passion for cultivating successful small businesses with great economic impact will contribute to continued growth for San Antonio and the surrounding areas.
Richard Sifuentes explains, "Small businesses have always been key in driving much of the economic success in San Antonio and the surrounding communities. As the UTSA SBDC Director, I want to continue to work towards growing small business success, strengthening the small business sector and providing economic benefits to our communities."
Sifuentes received a Bachelor of Science from Trinity University and a Master of Arts in Procurement and Acquisition Management from Webster University, St. Louis, Mo. He is a veteran of the armed forces having served in the Army as Captain from 1981–1991.