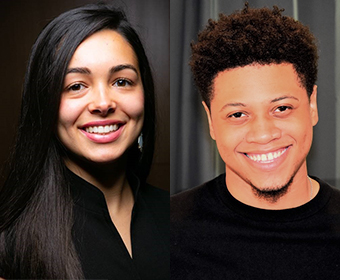 (Feb. 26, 2019) -- Turning 50 isn't the only thing that UTSA has to celebrate in 2019. This year, UTSA is sending two finalists to interview for the Truman Scholarship. Honors College students Maria Victoria Alonso and Jay'Len Boone hope to become the third and fourth Roadrunners to earn the prestigious honor that supports aspiring public service leaders in the United States. They are among 199 finalists selected out of 840 applications for their leadership, public service and academic achievement.
Alonso's commitment to serving others began early in life. Her brother, Andy, has autism. As they were growing up, he was often a target of bullying. Alonso's first inclination was to combat the bullies with physical aggression, but over time, she developed a more humble approach.
"I developed a better understanding of others' perspectives and learned to address injustice with words and deeds," Alonso said. "My experiences with Andy have made me more sensitive toward others with disabilities or special needs and those who do not easily find their voices to advocate on their own behalf. As I learned to use my voice to protect Andy, I became more attuned to the unique challenges others face to have their voices heard."
Alonso later expanded her advocacy work so that she could help individuals beyond her immediate family. She has served as an outreach coordinator for San Antonio Councilman Greg Brockhouse, where she responded to constituent concerns, contacting outside agencies and following up with constituents to insure desirable outcomes. She is also part of the UTSA Ambassadors Program and has volunteered for numerous organizations including the Northside Independent School District's Pre-K and Program for Children with Disabilities, and the San Antonio Food Bank.
After she graduates from UTSA, the politics and law major, Puerto Rican-born Alonso plans to pursue a career as a civil and human rights attorney with a focus on disability law.
Boone's public service journey began in high school, while witnessing violence in his local community of Ypsilanti, Michigan, outside of Detroit. He launched a campaign to unite his community and said he found his true calling at the same time.
"I realized public service was something I'd want to do for the rest of my life," Boone said.
A year ago, Jay'Len founded his own nonprofit, Sustainable Youth in Action or SYA, which is dedicated to empowering young people to solve social issues in their communities.
Boone, who is a double major in global affairs and sociology, says his passion for public service was passed down to him by his parents.
"I remember watching as my mom and dad struggled to pay bills with a house of nine people because they wouldn't turn anyone away," Boone said. "I also remember my mom being a source of energy and help for women who needed help in marriage, raising children or just life in general. They are the true public servants and community shakers and I am honored to be continuing the work they so effortlessly modeled for me."
If they are awarded the Truman Scholarship, Alonso and Boone will receive priority admission and supplemental financial aid at selected graduate institutions as well as leadership training, career and graduate school counseling, and special internship opportunities within the federal government.
In UTSA's entire history, there have been just two Truman scholarship winners: Gretchen Harting in 2002 and Sanah Jivani in 2018. The 2019 Class of Truman Scholars will be announced on April 17.
The Truman Scholarship is awarded by the Truman Foundation, a living memorial to President Harry S. Truman that supports the values of service.