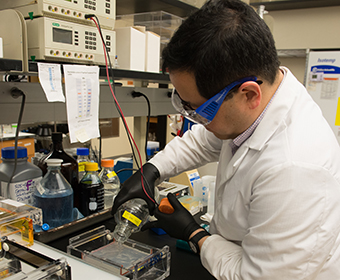 (March 11, 2019) – UTSA is launching a new program aimed at boosting student engagement and retention. The Biomedical Engineering Research for Active military and Veterans (BRAVe) program will target undergraduate students, including those at two-year colleges or who haven't declared majors, and place them in a 10-week summer research lab program to work on projects including: regeneration of damaged tissue, non-invasive tissue recovery, and/or treating soldiers in the battlefield. 
To make this possible, the federal government awarded a $352,414 National Science Foundation award to UTSA with support from U.S. Congressman Joaquin Castro (TX-20).
"I welcome the National Science Foundation (NSF) funding awarded to the University of Texas at San Antonio (UTSA) to aid in student retention while providing additional resources for undergraduates, active duty military and veterans," said Rep. Castro. "UTSA remains at the forefront of scientific research while continuing to push community engagement, making them an ideal candidate to receive this grant. San Antonio is home to Military City USA, and UTSA undoubtedly contributes to efforts that improve the lives of students, active duty military and veterans alike."
The program will fund a total of 30 undergraduates over three years. It will also pair participants with faculty members and graduate mentors. At the end of each program cycle, undergraduates will present their research work to the National Biomedical Engineering Society—a once in a lifetime opportunity to showcase work to leaders in the field while making networking connections.
BRAVe is lead by Eric Brey, chair of the UTSA Department of Biomedical Engineering, and Amina Qutub, associate professor in the same department.
"San Antonio is a city with incredible opportunities for research working on medical challenges vital to the solider or veteran," said Brey. "This program will expose more people throughout the country to the opportunities at UTSA and in San Antonio, and it's an opportunity to work with students on important research at a critical time in their educational path."  
The program will include collaboration with partners throughout our community, such as the South Texas Veterans Health Care System, the City of San Antonio's Veterans and Military Affairs Office, Trinity University and the University of the Incarnate Word.
UTSA's military community includes nearly 5,000 veterans, active duty military members, guard, reserves, ROTC members and their spouses and dependents. The university was recently recognized as the No. 6 most Military Friendly School by Victory Media.