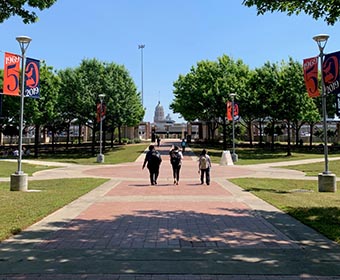 (March 26, 2019) – The University of Texas at San Antonio (UTSA) has been recognized once again for the quality of its degree programs. Several UTSA graduate programs have been ranked in U.S. News & World Report's annual 2020 U.S. News Best Graduate Schools Rankings, demonstrating the university's growth and momentum as a destination for student success and research excellence.
The UTSA graduate programs in this year's U.S. News and World Report rankings included:
U.S. News and World Report examined more than 2,000 graduate programs across the United States to produce its Best Graduate Schools Rankings. To determine the overall score, data strategists sent surveys to more than 22,000 academics and professionals around the country and asked them to rate the academic quality of master's programs on a scale from one to five. Scores for each school were totaled and divided by the number of respondents.
UTSA's Department of Social Work and Department of Public Administration are housed in the College of Public Policy. The UTSA Master of Social Work prepares students for socially, responsibly and ethically grounded practices that advance social and economic justice, human rights and sustainable development. The UTSA Master of Public Administration program, which is accreditated by the National Association of Schools of Public Affairs and Administration, prepares students to be practitioners of public service, advancing public policy and practice for the greater good.
"The faculty members of UTSA's social work and public administration programs are the driving force behind these state and nationally recognized programs," said Lloyd Potter, interim dean of the UTSA College of Public Policy. "Our faculty are highly productive, professionally engaged and put exceptional effort into working with and training our students to go on to make significant and positive impacts in our communities."
The UTSA College of Engineering offers 12 graduate degree programs in four departments: biomedical, civil and environmental engineering, electrical and computer engineering and mechanical engineering. The college prepares hundreds of graduates each year for successful engineering careers in the public sector, private sector and higher education.
"Not only has our overall ranking as an engineering graduate program increased in ranking this year, but we have seen greater recognition for all of our graduate programs," said JoAnn Browning, dean of the UTSA College of Engineering. "We are pleased that all of our programs are rapidly rising in the national rankings and look forward to continued growth and progress."
The UTSA College of Education and Human Development offers graduate programs in a variety of education and human development fields, including K-12 education, higher education, school counseling, school psychology, bilingual education, teaching English as a Second Language, and kinesiology, health and nutrition. More than 1,300 graduate students are currently enrolled in the college's four doctoral, 16 masters, and 13 graduate certificate programs. Most recently, the college received national accreditation for the Master of Arts in Early Childhood and Elementary Education program through the National Association for the Education of Young Children.   
"I am pleased that our graduate education programs have been recognized for their excellence and for the transformational impact that our graduates go on to have in the communities and in their professions," said Margo DelliCarpini, dean of the UTSA College of Education and Human Development. "Our graduate programs provide our students with access to excellent faculty as well as high quality academic experiences and connections to their professions that prepare them for success in their respective fields." 
The UTSA College of Business MBA program provides an intensive business education for students who want to reach the next level of their careers. Expanding upon a traditional business management program, the UTSA MBA strategically focuses on relevant business issues to stay current with changing workforce needs. Our more than 250 MBA students study with top-notch faculty and network with professional peers who possess a variety of life experiences. The college is accredited by AACSB International, the Association to Advance Collegiate Schools of Business.
"This ranking is a recognition by our peers and employers attesting to the quality of education at the UTSA College of Business," said Gerry Sanders, dean and Bodenstedt Chair in the College of Business. "Through the work of our faculty and the knowledge and experiences that they are teaching in the classroom, our students are thriving in the workplace and making immediate impacts to the business profession."
The UTSA Graduate School offers 67 master's degree programs, 25 doctoral degree programs and 31 graduate certificate programs to more than 4,200 graduate students across seven colleges.
Last fall, U.S. News & World Report named UTSA's academic and research programs No. 77 overall among U.S. public academic institutions and No. 421 overall in its 2019 Best Global Universities rankings.