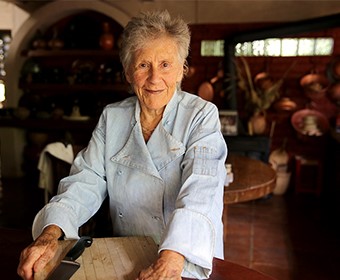 (April 17, 2019) – UTSA Libraries Special Collections is now home to a new collection of rare cookbooks and archives from one of the world's most famous Mexican food experts and Mexican cookbook authors. Diana Kennedy, the 96-year-old ethno-gastronomer, traveled 892 miles from her house in Michoácan, Mexico, to San Antonio to hand-deliver her archival collection to the UTSA Libraries.
Kennedy's archives includes a collection of 11 Mexican cookbooks from the 19th century and eight linear feet of personal papers documenting her life's work. Additional material such as Kennedy's working library and her remaining research papers will also transfer to the UTSA Libraries.
The acquisition complements UTSA Libraries Special Collections' existing 1,900-volume Mexican cookbook collection, one of the nation's largest of its kind. The university now preserves Kennedy's rare books and archives, and will foster the scholarly use of its rich, personal and original contents. The collection will open for research once cataloging and preservation work is complete.
"I think it seems to be a natural bridge between Mexico and the U.S.," said Kennedy, when she selected UTSA to house her collection. "San Antonio has always been a good crossing point, and I think it would be used here."
Kennedy's personal papers include her culinary and botanical research notes from each state in Mexico that document culinary traditions, cooking techniques, ingredients and diary-like written observations and accounts of her travels and interactions with residents and cooks across the region. The collection also consists of photographs, scrapbooks, menus and original correspondence with prominent chefs such as Julia Child, Paula Wolfert and Daniel Maye. Her 19th century Mexican cookbooks include a copy of the 1828 "Arte Nuevo De Cocina y Reposteria Acomodado al Uso Mexicano," possibly the only existing copy.
"The acquisition of Diana Kennedy's archives further advances the UTSA Libraries in the direction of being the national model for Latinx-serving libraries," said Dean Hendrix, dean of UTSA Libraries.
"We thank Diana for her generosity and entrusting UTSA to bring her passion for Mexico and its food to the rest of the world. The UTSA community and San Antonio will have the opportunity to study and deeply understand the ever-evolving foodways of Mexico and make connections to our region of the world."
A native of Britain, Kennedy built her expertise in Mexican cuisine through 50 years of documented travel throughout Mexico, eventually leading to nine published cookbooks and the honor of Order of the Aztec Eagle, the highest honor awarded by the Mexican government to foreign nationals, and the Order of the British Empire.  
"The addition of Diana's library and archives demonstrates our ongoing commitment to growing an in-depth collection to support the study of Mexican cookery and cuisines", said Amy Rushing, head of UTSA Libraries Special Collections. "It's a perfect fit for San Antonio and its distinction as a Creative City of Gastronomy. The collection will allow students, researchers and the community to explore Mexico's diverse culinary traditions and regional recipes in new ways."
Kennedy will be UTSA Libraries' featured guest this May at its annual culinary event, Ven a Comer. The event will honor Kennedy as renowned Mexican chef Juan Cabrera, local San Antonio chefs Elizabeth Johnson, Sergio Remolina, John Brand and Jaime Gonzalez, and UTSA alumna Silvia Hernandez McCollow, pay homage to Kennedy, developing a menu inspired by her life's work.
UTSA Libraries is comprised of four library locations-the John Peace Library, the Downtown Library, the Applied Engineering and Technology Library, and Special Collections at the Hemisfair Campus. UTSA Libraries is a hub for research and discovery for our Main and Downtown campuses, where students, faculty and staff gather for study and collaboration in a welcoming environment.
The UTSA Libraries Special Collections preserves and provides access to the legacies of UTSA, San Antonio, and South Texas through a rich array of rare books, photographs and primary sources. Strengths of the collections include UTSA's institutional history, women and women's history, activists/activism, Mexican Americans, San Antonio authors and artists, Mexican and Tex-Mex culinary history, and urban development and growth.