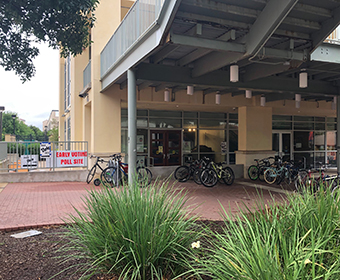 (April 16, 2019) – UTSA is a designated early voting site for the May 4 Joint, General and Special Election. Any registered Bexar County voter can skip the lines and cast a ballot at UTSA from Monday, April 22 to Tuesday, April 30 in the H-E-B Student Union (HSU 1.002) on the UTSA Main Campus. Voters at the Downtown Campus can vote early at the nearby Bexar County Elections Department at 1103 S. Frio St.  Polls will be closed on Friday, April 26 and Sunday, April 28.
This election will decide the next San Antonio mayor, district representatives to city council and trustees for Alamo Heights Independent School District, Harlandale Independent School District, Judson Independent School District, Northside Independent School District, San Antonio Independent School District and Southside Independent School District. Check voter registration status and see sample ballots for additional information.
In the 2017 municipal race, 13.2 percent of Bexar County voters went to the polls, up from 12 percent in 2015. A goal for the City of San Antonio, as outline by SA2020, is to increase voter turnout by 2 percent point each election by 2020.  The UTSA Center for Civic Engagement encourages students, staff, faculty and community to stop by and make their voices heard by casting their vote at UTSA during early voting period.
Area residents and employees at Valero, NuStar, and other local businesses are invited to use this convenient early voting location. Marked reserved parking will be available for voters on the south side of the H-E-B Student Union.
Early voting times at UTSA:
Monday, April 22 - Thursday, April 25
8 a.m. to 8 p.m
Saturday, April 27
8 a.m. to 8 p.m.
Monday, April 29 – Tuesday, April 30
8 a.m. to 8 p.m.
Voters will be asked to present an approved form of photo or secondary identification to vote. On Election Day, May 4, voters must vote at their designated precinct locations. Additional cities in the county are also holding elections. See the Bexar County website for more information.
Visit the UTSA Center for Civic Engagement's social media for an updated list on fun and engaging voter activities on campus. Share photos on social media with the hashtag #RowdyVOTES.