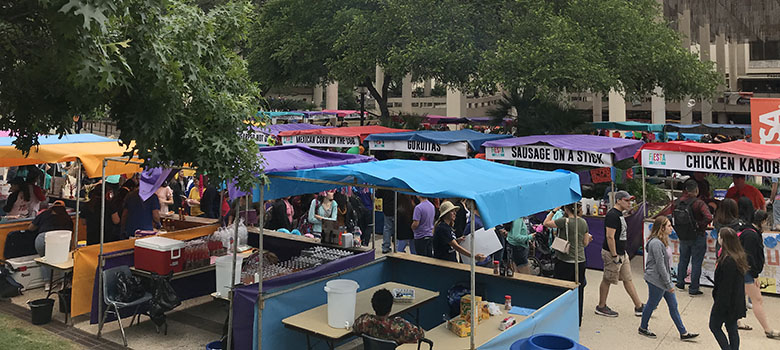 (April 8, 2019) -- Each spring, the City of San Antonio comes together to celebrate Fiesta, a series of parties, parades, concerts and countless other events that raise money for local nonprofits and charitable organizations. UTSA joins the rest of the city in embracing this party with a purpose, providing multiple opportunities for the Roadrunner community to join the celebration. This year, many of UTSA's Fiesta events commemorate the university's 50th anniversary.
While Fiesta officially takes place from April 18-28, many events will be held early this year, since the first official weekend of Fiesta coincides with Good Friday, Easter, and the beginning of Passover.
UTSA Fiesta events:
NIUTSA
Tuesday, April 9, 4 to 7 p.m.
Bill Miller Plaza, Downtown Campus
In the 20th year of NIUTSA, guests will enjoy free food and performances from UTSA Mariachi Los Paisanos and Ballet Folklorico de UTSA. Participants can also get ready for Fiesta, by creating UTSA sashes to hold all their Fiesta medals.
Party with the Roadrunner Café
Thursday, April 11, 11 a.m. to 2 p.m.
Roadrunner Café, Main Campus
Join the campus community for Fiesta-themed food, music, prizes and more. There will be a special $6 plus tax door rate.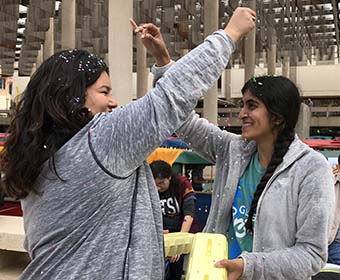 Fiesta UTSA
Friday, April 12, 11 a.m. to 3 p.m.
Sombrilla Plaza, Main Campus
UTSA's oldest Fiesta tradition now in its 42nd year, this year's themes is "Happy Birthday to UTSA!" The celebration includes food and drinks, entertainment by the E7 Band, a reception for Fiesta royalty at 1:05 p.m., and, as always, plenty of cascarones. This family-friendly event is free and open to the public. Proceeds from the student-led booths support UTSA student organizations.
Fiesta Fiesta
Thursday April 18, 3 to 9 p.m.
Hemisfair Park, 434 S. Alamo St., San Antonio
Fiesta officially gets started with Fiesta Fiesta. Rowdy and Mr. and Mrs. UTSA will lead other Roadrunners in a walking parade, and students from Roadrunner Productions will be selling UTSA and Fiesta UTSA medals. This free event also features music, food and fireworks.
UTSA Football Fiesta Spring Game
Saturday, April 20, 1 p.m.
Dub Farris Athletic Complex, 8400 North Loop 1604 West, San Antonio
The Roadrunners wrap up spring workouts with this free scrimmage. This year the players will be wearing special football helmets with a design marking UTSA's 50th anniversary. There will be games and inflatables for and a reception and parade for Fiesta Commission VIPs before kickoff.
Chaparral Music Festival
Saturday, April 20, 5 to 11 p.m.
UTSA Park West Athletics Complex, 8000 North Loop 1604 West, San Antonio

Following the game, listen to some music at the second annual Chaparral Music Festival. Hosted by the UTSA Alumni Association and the San Antonio Parks Foundation, San Antonio native Mike Ryan headlines along with performances from George Navarro, Jonathan Terrell, Kathryn Legendre and The Texases. Families can also enjoy lawn games, mechanical bull rides, food, drinks and local art and cowboy merchandise. Tickets are free when downloaded in advance or $10 at the gate.
Party on the Paseo
Thursday, April 25, 6 to 8 p.m.
H-E-B Student Union Ballrooms (HSU 1.104/1.106), Main Campus
Despite the name, this unofficial Fiesta event is actually happening in the Student Union Ballrooms. The event promotes alcohol awareness and provides music, games, food and fun.
Fiesta parades:
UTSA will also be represented in all three Fiesta parades. The first one is the Cavalier River Parade, on Monday, April 22 from 7 to 9 p.m. along the River Walk. More than 250,000 spectators make their way downtown each year to watch a parade of colorful boats. The theme for this year's parade is "It's Showtime in San Antonio," and UTSA's barge will have a Star Wars theme.
On Friday, April 26, the Battle of Flowers parades through the downtown San Antonio streets beginning at 10 a.m. This is the oldest Fiesta event; it started in 1891, and has grown to become the second largest day parade in the United States. UTSA students, including Mr. and Ms. UTSA, will be riding on UTSA's float, which will celebrate the university's 50th anniversary.
UTSA will also be participating in the Fiesta Flambeau parade, the largest illuminated light parade in the country. This event takes place downtown on Saturday, April 27, starting at 7 p.m. In addition to a float celebrating 50 years of UTSA, UTSA's Spirit of San Antonio Band will also be in the parade.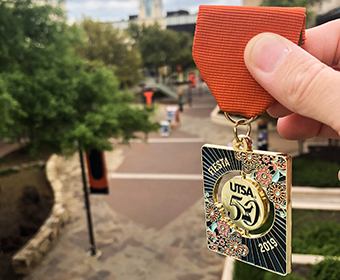 UTSA parking permit holders can enjoy Fiesta's downtown festivities with hassle-free parking. Permit holders can park at the Downtown Campus where the permit allows.
A favorite Fiesta activity is collecting Fiesta medals. The 2019 UTSA Fiesta medal celebrates the university's 50th birthday. It's on sale now for $8 at Roadrunner Express on Main Campus. Many other UTSA colleges, departments, offices and student organizations also have their own unique Fiesta medal.
The UTSA Institute of Texan Cultures also has a new exhibit centered around Fiesta fashion. "Fiesta Passion, Fiesta Fashion" looks at the colors, clothing and fashions that brighten the city's annual celebration. The exhibit is open through May.
Continuing a Fiesta tradition, the UTSA Monument Lights and Student Union Tower will be lit in the official colors of Fiesta, alternating orange, blue, green, pink, purple and yellow.