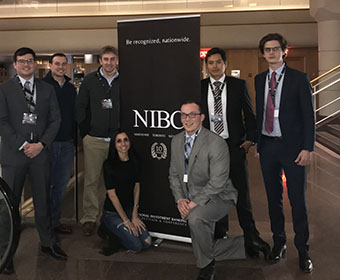 (April 26, 2019) -- Two teams comprised of UTSA College of Business undergraduate and graduate finance students advanced to the finals of the National Investment Banking Competition (NIBC) in Vancouver. Only the top 32 undergraduate and graduate teams advanced from the more than 400 competitors.
Graduate team members were Alex Duncan, Keri-Ann Quinones and Harrison Recht. Undergraduate team members were Juan Pablo Andrade, Sean Cato (final round), Francisco Hernandez (first round), Cody Prouse and Victor Urbano.
"In just our first year of competition, our teams saw great success," said Vipin Agrawal, associate professor in practice in finance. "We wanted to expose them to the world of finance and provide them with an experiential learning opportunity."
The NIBC competition provides students with hands-on experience and insight into the daily responsibilities of investment banking analysts, associates and directors.
"Everything we learned through our coursework was wrapped up in one package through this competition," said Quinones, a M.S. Finance student. "You learn to think on your feet and present with professionalism. We had the tools and resources from our coursework to be successful."
The teams were recruited and began preparing for the competition last summer. Undergraduate students audited a Corporate Restructuring class to gain knowledge that would aid them in the competition. Both teams worked throughout the fall and over winter break to finalize their case.
"We invested a lot of time and outside research into this competition," said Prouse, a junior majoring in finance and economics. "We learned how to think critically and make strategic decisions for a real-life project."
Agrawal credits the college's finance faculty with going the extra mile to help prepare the student teams for the competition. "It was truly a collaborative effort by the finance department," said Agrawal. "Faculty members Keith Fairchild, Michael Naquin and Brian McTier helped prepare them for the competition. And, alumnus Nathan Ramos, '13 taught them modeling."
During the first round of the competition, the students had to review a 100-page case study involving the luxury fashion industry, then prepare a 15-30 page pitch book and record an eight-minute video presentation for the judges.
"I wanted to get out of my comfort zone and improve my presentation skills," said Cato, a senior finance major. "We learned how to truly work as a team, and this experience will be invaluable when I interview for finance positions."
In addition to the financial knowledge and skills that the teams acquired preparing for the competition, they also echoed that this experience boosted their confidence. "This competition gives you the confidence that you can dive in, learn quickly and distill a topic down to key points," said Recht, a M.S. Finance student. "These are skills that can be applied directly to the workplace."
At the finals, the students were given the case at 6 a.m. and had eight hours to complete a pitch book and a final presentation to a panel of investment bankers on whether their company should engage in a merger.
"For me the greatest experience was interacting with actual investment bankers while pitching a deal that can and may even happen one day," said Duncan, a M.S. Finance student. "Knowing that we were competing on the same level with some of the top business schools in the world was encouraging, and that really says a lot about the instruction we're receiving from the UTSA College of Business."