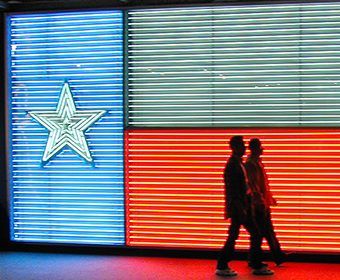 (April 24, 2019) — UTSA Provost and Vice President for Academic Affairs Kimberly Andrews Espy today announced an initiative focused on the Institute of Texan Cultures to align ITC collections and programming more closely to the university's academic enterprise. The initiative follows an external assessment of the ITC conducted earlier this year.
"San Antonio is arguably the birthplace of the Texan identity, and quite fittingly, the Institute of Texan Cultures is entrusted with chronicling and celebrating our state's diverse cultural traditions. Similarly, UTSA is proud to be the steward entrusted with managing ITC and maintaining its unique collections and programs for the benefit and enjoyment of our community and state," said Espy.
"One of ITC's greatest assets — in addition to broad and ardent community support — is that it is part of the university. The goal of this initiative is to wholly and holistically capitalize on that connection as ITC pursues its mission to give voice to the experiences of people from across the globe who call Texas home."
One important aspect of the initiative is the creation of a new director of academic research position at ITC to work closely with UTSA faculty and to create new learning opportunities for UTSA students through the museum. This position would serve as the primary liaison between ITC and UTSA's academic colleges and departments to enhance ongoing collaboration, including research projects, exhibits, student internships and other experiential learning opportunities. The director will hold a UTSA faculty appointment and will teach in the museum studies undergraduate minor and assist in the development of a planned doctoral program in interdisciplinary public humanities.
Another component of the initiative, following recommendation of the assessment review, will be administratively aligning ITC with UTSA Libraries to leverage the Libraries' resources and expertise in managing academic collections to support ITC.  A steering committee, headed by UTSA Libraries Dean Dean Hendrix and ITC Executive Director Angelica Docog, will work to determine how to best link operations between their two areas. Hendrix and College of Liberal and Fine Arts Dean Daniel J. Gelo will serve as co-leads of the initiative.
"Earlier this year, the UTSA Art Collection similarly partnered with Libraries in recognition of their natural affinities," said Hendrix. "ITC and Libraries already are closely aligned through UTSA Special Collections, so it is a natural fit to further combine them administratively. This also will allow ITC to focus on creating engaging visitor experiences to boost public visitation and memberships and strengthen community engagement."
A third aspect will be the initiation of a comprehensive strategic planning process to include modernizing ITC's exhibits and developing a more entrepreneurial budget model to focus on increasing museum attendance, memberships and philanthropy.
"I am grateful for the thoughtful assessment and am excited to work more closely with Deans Gelo and Hendrix to implement the recommendations to advance ITC, UTSA, our community and state," said Docog.
More information and Provost Espy's message to UTSA faculty and staff can be found on the initiative website.