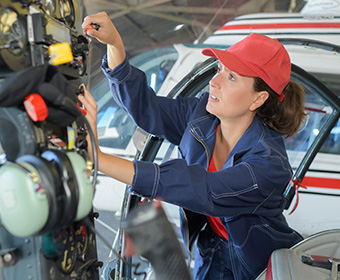 (May 22, 2019) – The UTSA College of Engineering is launching a new Aerospace Engineering Certificate to prepare students for successful careers in the aerospace industry.
The certificate program is open to mechanical engineering degree-seeking students and non-degree-seeking students with a mechanical engineering background. It certifies to employers that students have completed coursework essential to success in entry-level positions in aerospace.
To begin offering the undergraduate certificate at UTSA, the College of Engineering will add three new electives to the Mechanical Engineering curriculum beginning in Fall 2019. These courses were selected based on a review of the top 50 Aerospace Engineering departments across the country currently offering ABET accredited B.S. degrees in Aerospace Engineering and will accompany the currently offered Compression Flow and Propulsion Systems course. The four elective courses for the certificate will be compression flow, aerodynamics, propulsion and astrodynamics.
"By introducing these new courses, UTSA will be well-equipped to offer an Aerospace Engineering Certificate and will be taking the first steps in moving towards offering B.S. and M.S. degrees in Aerospace Engineering," states JoAnn Browning, dean of the College of Engineering.  
This certificate will also fulfill the need of the San Antonio K-12 Initiative that cultivates student interest in aviation-related careers, which was established in memory of aviation pioneer and entrepreneur Dee Howard for the support of programs that enhance excellence and global leadership of the aviation and automotive sectors in the San Antonio. The students in the program participating in aerospace-related student organizations will help to serve the outreach activities for the K-12 partners of the Dee Howard Foundation.

Dalton Bell, UTSA senior engineering student, and part of the student team who built a Mach 7 nozzle prototype that will test future hypersonic planes. The nozzle will be part of the future hypersonic lab at UTSA.
The Aerospace Engineering Certificate is sponsored by the foundation, whose mission is to inspire, challenge and empower innovators in aerospace while training a skilled workforce for the San Antonio region.
The Dee Howard Foundation also established the Dee Howard Faculty Fellow Endowment in 2013, benefitting a select member of the UTSA Department of Mechanical Engineering as it advances research and scholarship in aerospace engineering and support undergraduate and graduate students interested in the field.
"We are excited to see this aerospace engineering certificate get started, and appreciative of the Dee Howard Foundation and their support to help make this happen," says Christopher Combs, Dee Howard Endowed Assistant Professor in the UTSA Department of Mechanical Engineering. "We have already seen a great deal of interest from the student population regarding this certificate program and expect it to prepare our graduates for jobs in the aerospace industry."