(May 20, 2019) -- When couples plan a wedding, all sorts of questions arise: Do we like the venue? Which caterer should we choose? What is our color scheme? And, where should we set up our wedding registry?
For UTSA alumni Andrew Hubbard '17 and Carla Juarez '17, establishing a wedding registry presented a challenge. But their approach, by far, is one of the most unique and inspiring.
Juarez, a first-generation college student, and Hubbard, a transfer student, both enrolled at UTSA in 2015. Never having met before, stars aligned for these two to cross paths through the UTSA Student Government Association (SGA).
"Being a transfer student [from San Antonio College] condensed my time at UTSA to two years," Hubbard said. "You really have to be willing to jump in the deep end as soon as you walk on campus."
Hubbard jumped head-first, engaging with students and organizations quickly. It wasn't long before he became SGA President, which led him to meet many outstanding student leaders.
"I made an effort to get to know and relate to the students around me and with Carla, I felt a special connection," he remembers.  
Juarez shared the same connection.
"As I got to know him personally, I saw how extremely positive and caring he was, and I really liked those qualities," she said.
The two spent a lot of their time engaged in university activities, growing fonder of each other each time.
"When I thought about doing something by myself or with other people, it was good. But, when I thought about doing it with her, it was better," Hubbard said.
In 2016, Juarez earned a finalist spot for Ms. UTSA. Hubbard accompanied her to the homecoming game and although she was not crowned that night, he insisted on celebrating and took her to dinner, marking their first date. UTSA Homecoming remains a treasure for the couple; a celebration of their alma mater and their anniversary.
Earlier that year, the couple attended Convocation where Rhonda M. Gonzales, interim dean of the UTSA College of Liberal and Fine Arts, delivered a faculty speech. She welcomed first-generation and transfer students and highlighted a pact made by six first-generation female students to graduate high school and attend college. It deeply resonated with Juarez, who had never openly discussed the challenges of being a first-generation college student.
"I heard it and I cried like a baby. It reminded me of my own struggles," she said. "Knowing that students felt the same was welcoming."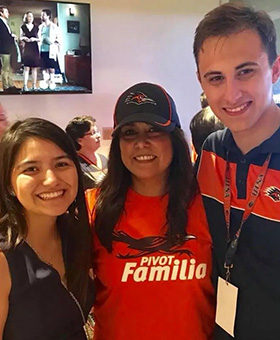 Gonzales and Juarez met at a luncheon following Convocation and have continued to support each other's efforts for first-generation and transfer students. Gonzales also came to know Hubbard over time, a student she says impressed her with his advocacy for student success.
Inspired to help students like her, Juarez became involved with UTSA's Involvement Ambassadors, Honors College Leadership Council and First Gen Council.
"I was passionate about finding a place for everyone and wanted every student to feel at home," she recalls.
Throughout their journey, the couple engaged with organizations that helped students like them. Even as young alumni, the two remain connected.
"Something that I enjoy now is the opportunity to connect back," Hubbard said. "Engagement is a big part of who I am, who we are."
In 2018, they requested a very special meeting with Gonzales. 
"They were very sneaky," said Gonzales, who was under the impression that Hubbard wanted to gain career coaching from her.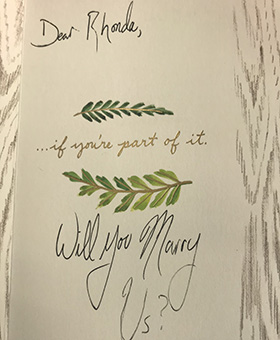 With Juarez waiting in the lobby, it turned out to be a surprise request. She entered the room and the couple presented Gonzales with a card that read, "Our wedding day will be even happier if you're a part of it. Will You Marry Us?"
Gonzales admitted to never playing the role of bridesmaid or maid of honor before. So, she felt rather overwhelmed to accept what is considered the largest role during the ceremony – officiating.
"I think that I was on the verge of tears because I was just so touched by their 'why,'" Gonzales said.
"Education and religion are two pillars in our life, education being a very strong pillar that brings us together. It was a mutual decision because of what Gonzales represents," Hubbard and Juarez said. "She is an amazing leader. She breaks every ceiling that there is to be broken. She's a great role model."
"They had me at 'will you marry us,'" Gonzales said.
But it wasn't until much later in the conversation that the couple shared their intentions to fundraise for a center that she helped create.
Through the process of wedding planning, they realized that the traditional wedding registry didn't quite fit.
"We didn't want to receive traditional gifts, but we didn't want to remove the opportunity to give for those who wanted to contribute in some way," Juarez said.
So, the couple created a fundraising campaign in lieu of a wedding registry. Guests have been invited to make online gifts in support of their cherished cause – first-generation and transfer students. To date, they have raised more than $3,100, surpassing their $2,500 goal in support of the UTSA First-Gen & Transfer Student Center.
>> Support Andrew and Carla's cause.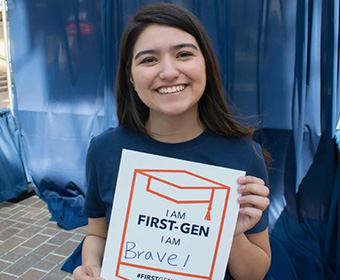 "This is a great starting point to continue to give. We want to continue celebrating students who are trying to better their lives," Juarez said. "If some are having some difficulties, we are happy to fill in the gaps. Complete strangers filled in the gaps for us, so this is really important to us." 
Hubbard added, "It feels right to do this because it's a never-ending cycle. It's either going to be a cycle of giving and empowerment or it's going to be a cycle of poverty. And, we would rather promote the cycle of empowering others to achieve even greater things."
The two were married by Gonzales on Saturday, May 18, 2019 at Los Patios in San Antonio. A multicultural ceremony that embraced both Juarez's Catholicism and Hubbard's Judaism, their wedding also highlighted the Mexican and San Antonio cultures with a Fiesta-themed reception.