(May 2, 2019) -- The enVault team, the group of UTSA engineering students behind the Vault-O power generator, won big this week at the $100k Student Technology Venture Competition hosted by the Center for Innovation, Technology and Entrepreneurship (CITE). The UTSA engineering majors beat out nearly 70 competitors to take the top prize for their Vault-O generator, a next-generation plug-and-play technology that aims to help reduce carbon emissions and operating costs for businesses owners.
The first-place enVault team includes UTSA engineering students Noah Bemisderfer, Robert Chavez, Nestor Falcon, Bobby Reyes and Jack Williams.
The UTSA students were sponsored by local entrepreneur Matthew Herrera, the owner of Go Pawz Go, a leader in the dog grooming space. After learning about his mobile business, they were inspired to reduce his operating expenses.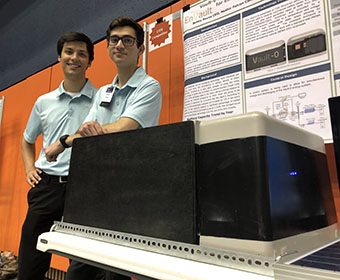 enVault estimates that its Vault-O generator will only cost mobile operators like Herrera about $100 dollars to run. The power generator operates without diesel and gasoline and is powered through the use of advanced battery inverter technology. With the invention, Herrera can take his mobile unit directly to dog owners for longer periods at a lower cost.
The UTSA Center for Innovation, Technology and Entrepreneurship (CITE) hosts two competitions each year to give students hands-on experience in entrepreneurship and pitching for first-round funding. CITE is a collaborative center in the UTSA College of Business and UTSA College of Engineering that aims to create a pipeline for San Antonio's ecosystem in new technology ventures. Finalists of the competition have access to a prize pool of more than $100,000 in funding and in-kind services to launch their new companies.
This year, competitors presented to a panel of industry leaders and start-up incubators including Lockheed Martin, Alamo Angels, Velocity TX, Active Capital, Targeted Technology and Geekdom. To prepare for the competition, CITE pairs the competing teams with industry advisors including CPS, UT Health and Brooke Army Medical Center to ensure successful market launches.
Second place in the CITE competition went to the biomedical engineering group C-CAM for its laryngoscope device to help first responders with intubation. JNST took third place for its cooling portable prosthetic socket which helps amputees protect residual limbs on demand.
Running alongside the CITE competition, other engineering teams competed in the Tech Symposium, a competitive program where teams present their senior capstone projects to win up to $12K in cash prices. This year, the top winner was the Daedalus Group with its automatic weapon detection system. In close second, Zometis Innovations, an all-female team, captured attention with its prototyped microbiome pill, which can be used to diagnosed the health of the stomach and intestinal tract.