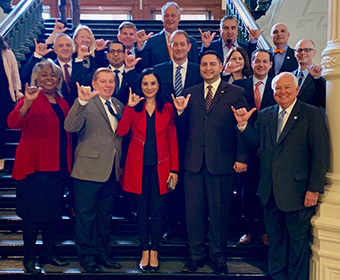 (May 17, 2019) -- The Texas House of Representatives today introduced a resolution recognizing UTSA for its role as one of the nation's leaders in cybersecurity education, research and training. House Resolution 1456 also recognized UTSA's deep partnership with the Texas Department of Information Resources, the state agency responsible for ensuring the integrity, availability and confidentiality of the information assets of Texas government and public educational institutions.
UTSA is home to the No. 1 cybersecurity program in the nation, according to the Ponemon Institute, and has three Center of Academic Excellence designations—in information assurance/cyber defense education, information assurance research and cyber operations—from the National Security Agency and the Department of Homeland Security. San Antonio is among the nation's largest cybersecurity hubs and home to the largest concentration of cybersecurity experts and industry leaders outside Washington, D.C., uniquely positioning the city and UTSA to lead the nation in cybersecurity research and workforce development together.
"Greater collaboration is needed to protect America's national security infrastructure, however federal and state agencies need additional support to assist counties and communities in establishing viable programs," said UTSA President Taylor Eighmy. "As a national hub for cybersecurity education and drawing on our experience working with local and state governments, San Antonio and UTSA are uniquely positioned to help the State of Texas address its cybersecurity needs through research, workforce development and preparedness initiatives."
UTSA defends cyber space through an interdisciplinary approach that includes business, science, engineering, and liberal and fine arts. Five research centers and institutes advance the university's work, which focuses on solving global security challenges in today's increasingly technological world.
>> Learn more about national security at UTSA.
Additionally, the university is home to the National Security Collaboration Center (NSCC), where government, university and industry partners to collaborate on scientific investigations and business enterprises. The NSCC includes research laboratories with state-of-the art hardware and software, a computational Innovation Factory and business incubator to develop prototypes and concepts for the public good, a visualization laboratory to translate big data into images for large-scale, high resolution digital walls, and a high-performance computing center to support the research and development of algorithms and systems for addressing computational and data-intensive problems.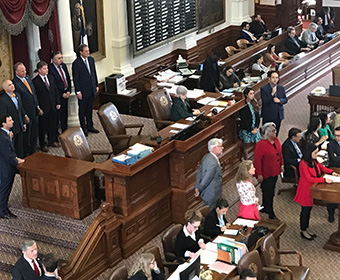 Eighmy was present today as the cyber resolution was read on the House floor. He was accompanied by corporate partners of the NSCC including Jim Perschbach, president of Port San Antonio; Rich Valdez, chief technology officer of IP Secure; James Scott, Dell Federal Account Executive; and Joe Sanchez, executive director of CyberTexas and by Texas Representative Ina Minjarez and State Senator Jose Menendez.