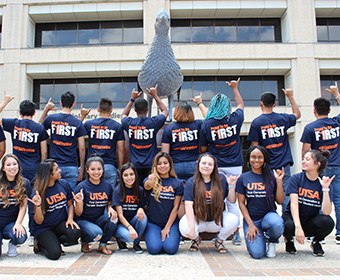 (May 29, 2019) -- The Center for First-Generation Student Success, an initiative of the Student Affairs Administrators in Higher Education (NASPA), has named The University of Texas at San Antonio (UTSA) a top university in its programming efforts to create a supportive and empowering campus for first-generation students. Nearly 50 percent of UTSA's undergraduate student population will be the first in their families to earn a college degree.
Ensuring that every student is successful and graduates on time is a top priority at UTSA, where the UTSA First-Generation & Transfer Student Center offers several programs to make sure first-generation college students are leveraging the many opportunities and resources the university has to offer. These include mentorship programs, student success activities and community building initiatives.
Among these programs, First To Go & Graduate provides students a first-generation, upperclassmen peer mentor and a first-generation faculty coach. Collectively, they form a familia and engage in various student success, career exploration and community building activities. In the four years since the program began, it has served more than 450 first-generation students.
Likewise, the Roadrunner Transition Experience provides students with an upperclassmen peer mentor, who is also a transfer student, to successfully guide them throughout their academic career. Since the program's inception in 2015, it has benefited more than 600 transfer students.
Outside of the First-Generation & Transfer Student Center, is Math Matters, a hands-on approach where students learn math by doing math instead of by listening, and Alamo Runners, which pairs future Roadrunners with an Alamo Colleges senior advisor and peer mentors who guide them to dual-enroll in 12 credit hours at an Alamo Colleges campus, plus three credit hours at UTSA.
Each of these programs are made possible through a PIVOT for Academic Success  (prepare, inspire, validate, orient and transition) grant from the U.S. Department of Education.
"In a relatively short amount of time, the PIVOT grant has effectively raised the consciousness of the contributions of our first generation students at UTSA," said Paul Rodriguez, director of the UTSA PIVOT program. "The work being done in the First Generation & Transfer Student Center especially is a true testament to the vision of the grant's original architects: Rhonda Gonzales, Raquel Marquez and Patricia Sanchez. It has been a tremendous honor to work with them in this capacity and to be a part of this special initiative."
>> See what else UTSA is doing to support its first-gen students.
As part of the NASPA recognition, UTSA's first-generation team will join eight other university first-generation teams in serving in advisory roles during the 2019-2020 First Forward inaugural cohort conference in Orlando, Fla. this summer.
"The Center is so pleased to welcome The University of Texas at San Antonio into our inaugural cohort of First Forward institutions, said Sarah E. Whitley, senior director of the Center for First-Generation Student Success. "Through the application process, it was evident that UTSA is not only taking steps to serve first-generation students but is prepared to make a long-term commitment and employ strategies for significant scaling and important advances in the future."
The 2019 NASPA First-Generation Student Success Conference will examine a broad spectrum of topics critical to advancing the holistic outcomes of first-generation students. It will explore the vast intersectionality of first-generation students, systemic and institutional barriers to success, evidence-based practices and approaches to student support and services, the role of assessment and evaluation, opportunities to build celebratory campus environments and strategies for building networked campus approaches to scaling support.
"This designation by NASPA is so important because it provides UTSA with an opportunity to make a positive impact on students beyond our own campus, drawing on the lessons we have learned," said Brandon Cruz, senior program coordinator for the UTSA First-Generation & Transfer Student Center. "To work with, develop and support other rising first-generation focused institutions across the nation will have a profound impact on everyone involved, most importantly the students."
Based in Washington, D.C., NASPA is the leading association for the advancement, health and sustainability of the student affairs profession. Their works provide professional development, advocacy and research for 15,000 members in all 50 states, 25 countries and 8 U.S. territories.